New Release! Pre-Production shipments are complete. Players LOVE it! 1st Run Production shipments in late April through May (now May due-to-high-sales-volume.). Check out the LOW release price for a limited time!
$64.99 Deposit Option Below!
---
CHASE TONE™
'68 Red Velvet FUZZ™
'Sweet, Creamy, Singing, Multi-Layered 60's Fuzz Tone!'
What sets the CHASE TONE™ '68 Red Velvet FUZZ™ apart from the rest is its amazing feel and thick even order harmonic complexity. There's no need to crank the amplifier or layer an overdrive or another fuzz but you can if you want to for more saturation and feedback. This may be the most harmonically complex and sweet feeling 60s Fuzz you'll EVER play; sounding like you always thought a Fuzz Face should. This is really a hybrid (and more) of the best we've had to offer. Everything can be worked via the guitar volume knob: Pristine Cleans, Thick Sustaining Overdrive, All-Out Exploding Fuzz.

[Matt Cummings. Fender Stratocaster. Fender Brown Face Amp.]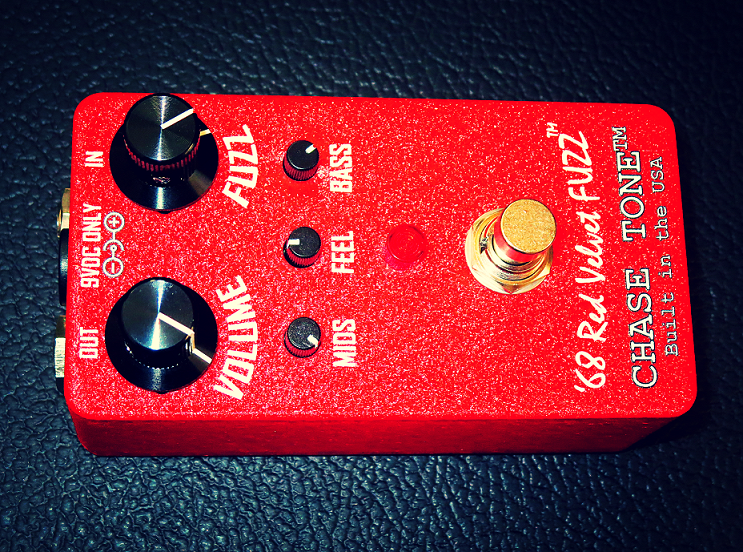 The CHASE TONE™ '68 Red Velvet FUZZ™ is a limited-edition, pedal-board-friendly version of our prized SOLD OUT CHASE TONE™ 1968 Dallas Arbiter BC183 Red Fuzz Face Replica that had it's own authentic explosive fuzz tone like a wall of Marshalls. The durable powder-coat finish actually feels like VELVET and the fonts are accurately replicated from an original prized 1968 Dallas Arbiter Red Fuzz Face. SWEET!
External mini-trim knobs allow the player to EQ fine-tune to their rig at home, in the studio, or on the road with a live band. Player preferred custom tweaks from our prized Red Stardust™ Germanium Fuzz (and my favorite CHASE TONE™ Candy Apple Red Germanium Fuzz from France)…  "For those who desire a germanium fuzz pedal that sounds like an exploding sun . . . . . . with more gain, thick fuzz, sustain and feedback than a stock vintage germanium fuzz face- all while never getting lost in the mix." and our Silver Stardust™ BC183/2L Silicon Fuzz "For those who desire a singing midrange, sustaining iconic 1960s to futuristic fuzz tone with germanium warmth, sustaining gain for effortless soloing, and increased output to be heard through a band mix unlike stock vintage fuzz pedals . . ." have been incorporated into the design. [If you've owned our Roadster Fuzz™ and wanted a sweeter, harmonically complex fuzz with increased versatility, less low end, and a longer travel FUZZ knob, this is it and more! All at an affordable price for players worldwide.]
"There's more MIDRANGE, OUTPUT, GAIN, SUSTAIN, HARMONICALLY COMPLEX FUZZ and PLAY-ABILITY than any fuzz we've ever produced. This fuzz captures that elusive feel that's missing in other modern examples and is only found in a select few prized vintage units, but they never cut through the mix, aren't pedal board friendly, and cost thousands… if you can find one."

Controls:
VOLUME: Maximizing this control increases sustain, punch and treble bite. The sweet spot (1 o'clock through 4 o'clock) is adjusting it in comparison to your tube amplifier volume and EQ settings- An optimal setting is usually between Noon and maximum when turning in a clockwise direction.
FUZZ: Maximizing this control increases total amount of fuzz. Customized circuit offers improved range of control allowing less fuzz and more over-driven fluid tone for the majority (nearly 80%) of this control's travel. [You can't get a vintage DAFF to do this.]
MIDS: Clockwise Boosts MIDS & OUTPUT to actually be heard in a band mix. [You can't get a vintage DAFF to do this.]
FEEL: Updated Bias knob done our way. Every setting is musical and changes the feel and texture- counter-clockwise saturated starved voltage and dying battery feel through punchy round tube-like fuzz and everything in between. [You can't get a vintage DAFF to do this.]
BASS: Maximizing this control in the clockwise direction removes it from the circuit. Adjusting in a counter-clockwise direction adjusts the headroom clipping of the input circuit, reduces bass frequencies allowing better compatibility with dark or humbucker equipped guitars, and helps eliminate oscillations when placed after a wah pedal. [You can't get a vintage DAFF to do this.]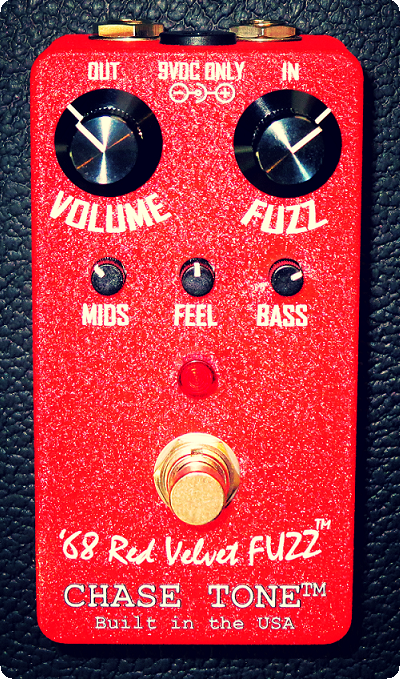 Features Include: Premium Quality
Professional Low-Noise PCB DESIGN: FULL PCB GROUND PLANE provides enhanced noise reduction and rejection.
Stable Performance On-the-Road- Temperature independent for consistent performance.
Standard 9VDC Polarity Power- Center Negative (Standard) or 9Volt Battery.
Components Include: Vintage-Spec, New Production
Cherry picked to cream-of-the-crop specs BC183C Silicon Transistors- Only hand picked transistors are used. Check out our preferred transistor analyzer below! [These are stock Google images. But it's the unit we use.]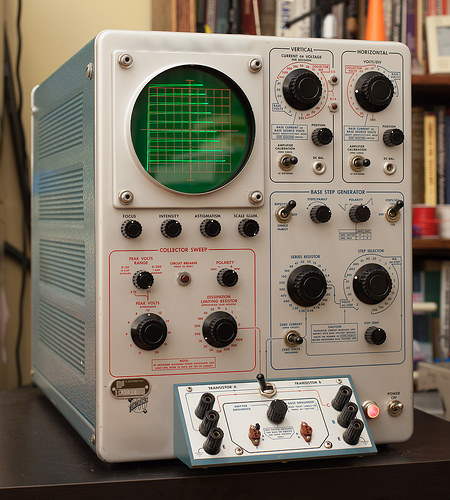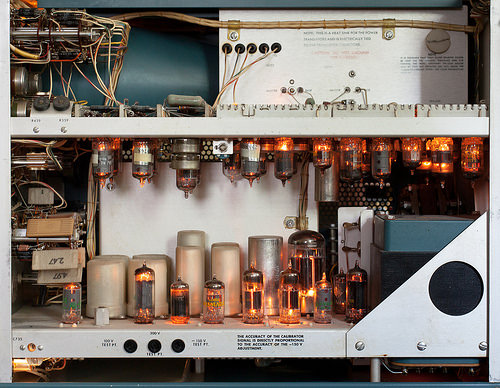 Vintage-Spec, New Production, Low Noise Carbon Film Resistors in 50+ year Aged 'fine-tuned' values.
Vintage-Spec, New Production, High Quality BC Axial Electrolytic Capacitors
Vintage Mullard Tropical Fish Capacitor
Hardware Includes: Hand-wired Jacks and Switches for Ultra Reliability On-The-Road
Retro Cherry Red Impact Resistant LED BEZEL with Wide Viewing Angle.
'Sweet Red Velvet™ Powder Coat Finish (Zero Ozone Emissions and Ultra-Durable) with Vintage-Accurate Dallas Arbiter Fuzz Face DURABLE PRINT.

High quality 1970s style aluminum enclosure:4" Long x 2.4" Wide x 1.5" High. Fits in the palm of your hand.
REAR MOUNT JACKS = FIT ON VIRTUALLY ANY PEDAL BOARD! High Quality Switchcraft Jacks Handwired for Ultimate On-The-Road. (JACKS ARE NICKEL-PLATED)

High Quality, EPOXY Reinforced 3PDT wired for TRUE BYPASS (SWITCH IS NICKEL-PLATED)
Black Metal Replica TOP HAT KNOBS!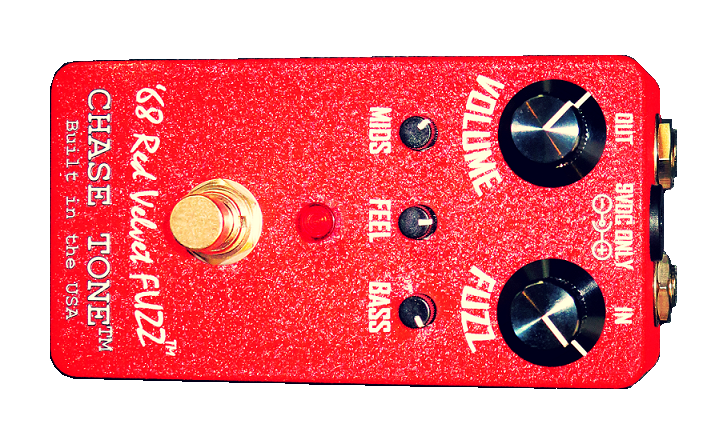 ~ Power Coat actually feels like Sweet Red Velvet! ~

Our Philosophy: "Inspired by Tone™

"We take a passionate approach in deciphering iconic, elusive tones– the same elusive tones that inspire you. We design our professional-grade products to inspire you on whatever musical quest you seek — house rocker, local clubs, studios, large theaters and world concert stages. So, step on your Chase Tone™ equipped pedals and live your musically creative life to the fullest. Professional-grade products, built out of passion, that truly inspire- now that's something worth playing."– Kyle Chase
[Matt Cummings. Fender Stratocaster. Fender Brown Face Amp.]

Easy Order Details: PayPal Or Credit Card Secure Checkout Options

New Player Pricing! $169.98

Only

$129.98 for a limited-time!



USA: $10 USPS Priority Mail with Tracking. 3-5 Business Days for Delivery from Shipment Date. (Actual shipping costs.)
Canada/Europe/Asia/UK/Australia: $25 USPS First Class Mail with Tracking. 7-14 Business Days for Delivery from Shipment Date. Customs may add additional wait times. (Actual shipping costs.)
30 Day Satisfaction Guarantee for USA Buyers. Absolutely Guaranteed.
☆ 5% purchase price discount for United States Veterans with FREE USA SHIPPING! ☆ (Please Contact Us!)
Back-Order: 1st Run Production shipments in late April through May (now May due-to-high-sales-volume.)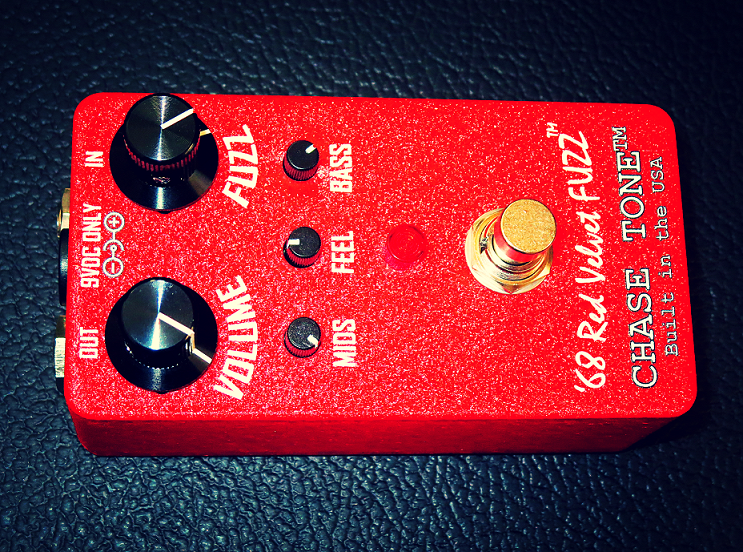 Have a question or would like to be placed on the wait list for future payment? Please use the contact form below including your name and country and we'll get back to you shortly!
Chase Tone™ "Inspired By Tone™