Shipment within 1 business week or sooner!
---
CHASE TONE®

FUZZ FELLA®

RED BC183C Edition

"Gorgeous…

'hear the wrap wire on the strings!? [That Pedal Show]'

cleans… to melting power tube sweet even-order beautiful destruction fuzz tones.

'Wow!!!!! Mannnn!!!!! That is… killer! [That Pedal Show]'

All by simply turning the guitar volume knob."

[That Pedal Show video demos below]
As seen on (formerly known as 1968 Red Velvet Fuzz)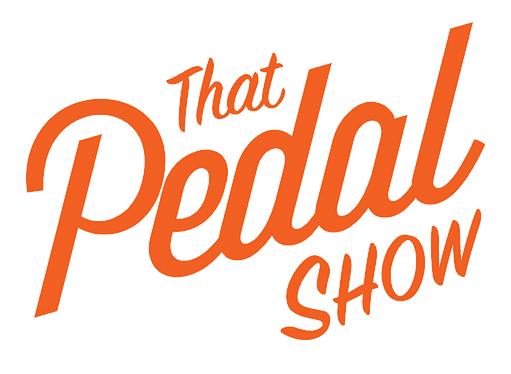 This is the exact original CHASE TONE

1968 Red Velvet Fuzz circuit and sound

.
Why? Because it's still the best and most favored 1968 BC183C Fuzz everyone asks us for.
FUZZ control (full range),
MIDS control (actually be heard in a mix and boost output),
FEEL control (adjust from dying battery velcro fuzz to germanium softness and tube overdrive),
BASS control (humbuckers! resolve wah compatibility!! & buffers before fuzz!!!),
STANDARD POLARITY (or battery),
PERFECT TEMPERATURE STABILITY every time, every gig, every session!!!
The inherent design of the original 1960s Dual Shunt Series Feedback Pair (aka 1968 Dallas Arbiter Fuzz Face and your VCR if you still have one) is preserved yet brought into the future with versatility and upgrades.
This IS the '68 Red Velvet FUZZ EXACTLY. No alterations. No part substitutions. No brand component differences. The only change is cosmetic. Brown circuit board instead of green and the enclosure has a neat new look!

1968 British Cherry Red Powder Coat
All perfect 5 Star Reviews from Reverb on the Chase Tone '68 Red Velvet Fuzz

Josh S.
Stop Chasing Fuzz Tones – RVF is it!
This is hands down the most versatile replication of a DAFF on the market today! I've ran it through a clean AC30 and a dirty JCM800 and whatever you desire for tone, can be shaped with the following: volume knob on pedal AND guitar, fuzz knob, mids, feel (bias) and bass knobs. I've even used it as just a top notch overdrive and as a clean boost – extremely versatile overall! This thing is LOUD and built like a tank. It will ooze tube driven tones or sputtering bass frequencies. I will say you need to know how to remove oscillations if you use a wah because it's unbearable otherwise [but the BASS knob resolves this].

Richard W.
The Ultimate Fuzz
This is one of the best sounding fuzzes I have ever played. Very Rich dynamic and expressive, and even though its silicone, it has just the right amount of germanium flavor. The additional controls over the bass, mids and bias make the pedal versatile and adaptable to any rig. The only knock I can make is to say I wish it had a tone control instead of the bias control. But that's being really nitpicky. Highly recommended.

Drew S.
It's the BC183 fuzz you've been looking for!
My fuzz influence is predominantly Eric Johnson. I know most of his tone is shaped by the fact that he uses 4 amps live and one of them is a cranked Marshall. I realize that I'll never rock a rig like that, probably ever, but this is a great fuzz pedal that can dial in some familiar tones but also great other tones too. If you're a fuzz-head, you'll want this in your arsenal no questions asked!

Robert H.
Versatile Fuzz
This thing is amazing. The controls can go from smooth to sputtery and all points in between.

William W.
Very flexible
This is simply one of the most flexible and usable fuzz faces out there. As a Les Paul player, it's hard to get a fuzz face dialed in right and this is super easy. I've used or owned most of the boutique fuzz faces out there and this one has a permanent place on my board. It pairs SO WELL with an analogman beano boost

Joshua A.
Awesome fuzz to add to the collection
Highly versatile! Can it sound like a drive? Yes. Can it sound like a blown up amp? Yes. Can it sound like a fuzz face? Yes!!! I've always thought myself more germanium but if you love fuzzes of all kinds you will appreciate this one!

Will R.
A must have Fuzz
This is what a Fuzz should be. Exactly how I would have designed one myself. Take a Fuzz Face and add a Mid control, ability to roll off the flubby Bass, and add as much voltage as needed. The Red Velvet does it all for me. The last stop for a classic Fuzz tone!

Jan G.
I have always looked for that exploding fuzz sound in Live In Pompei's version of Echoes. And there are plenty of fuzzes that deliver that. If you plug right into it. But then I use a ES8, and have pedals in front, which drastically transforms the sound in something a little too explosive. This one has the sound, doesn't mind buffers that much, and has additional mid and bass controls, which helps with sitting in the band and using humbuckers. And, most importantly, it has that sound.

Chris M.
a modern pedal-board friendly fuzzface.
I'm a long time Fuzzface addict; I've had a dozen (brand removed) as well as (brand removed) versions, (brand removed), etc., etc. All are good and faithful renditions, but all have the same shortcomings as the original. Namely, they're super finicky about temperature if they're germanium, don't like anything with a buffer anywhere near them, must run on batteries-and specific batteries at that or they sound terrible. I'd been on the search for a more user friendly option for quite some time and have found it here with the Chase Tone '68 Red Velvet Fuzz. It's silicon; so it doesn't mind temperature swings. It utilizes BC 183 transistors, so it's the warmest/fattest/most germanium sounding silicon version. It's designed to run on regular wall power, so it integrates nicely with your pedalboard's power supply ( I use the Voodoo Lab). Additionally, there is the ability to further tone-shape with 'mid' and 'bass' controls. The 'feel' control is a bias control; turn it down for starved battery effects, turn it up for fuller, rounder tones. And the most important part of a Fuzzface is present in spades, which is the ability to roll the volume of your guitar down and it cleans up to almost entirely clean. Everything from 'Castles Made of Sand' to an AC/DC like grind is available in the low to middle volume ranges with a Stratocaster. Full on is that Hendrix-face-melting-corpulent just barely in control fuzz. This one's a home run.
Reminiscent of a cranked amp with a dual pickup cherry finish 1964 Gibson ES-335 or 1964 SG with a bright bridge pickup and warm neck pickup, thanks to the perfectly matched transistors- dark and bright together for the perfect balance. Depending upon your pick attack, it decides which transistor (bright or dark) does more of the work, or they compliment one another with layered harmonic overtones when picked very hard. That's the secret behind the inherent tone. It's an instrument of tone. Not a pedal. A longer (passionate) process to achieve but worth it for that unique harmonic saturation.

Hi Kyle! I am LOVING the pedals! [SP™ & '68 RVF™] Thank you so much. Bless you, sir.

– Charlie Starr of BLACKBERRY SMOKE
…British Tone with American Grit! (This pedal also emulates a Gibson into a cranked Tweed Deluxe for 'Beautiful Destruction' fuzz tones!)

---
CHASE TONE®

Players Before Profits®

Pricing!
Used prices on original '68 RVF (FF RED BC183C) range from $350 to $450. ONLY a low 154.98 149.98 + PA state tax (if applicable)

U

S

A

: $10 USPS Priority Mail with Tracking. 5 to 10 Business Days for Delivery from Shipment Date. USPS currently has longer handling times. (Actual shipping costs.)
Canada/Europe/Asia/UK/Australia: $35 UPS to most countries. Delivery around 5 business days or less once shipped. USPS First Class Mail with Tracking may be substituted for some countries. Approx. 7-14 Business Days for Delivery from Shipment Date for USPS. Customs may add additional wait times. (Actual shipping costs.)
30 Day Satisfaction Guarantee for

U

S

A

Buyers. Absolutely Guaranteed.
☆ 5% purchase price discount for United States Veterans with FREE

U

S

A

SHIPPING! ☆ (Please Contact Us!)
Secure checkout below with a PayPal account.
Shipment within 1 business week or sooner!
---
GOOD LORD this sounds amazing! I forgot how much these kick! I'm using it with my Les Paul through a '59 Bassman LTD and I am blown away, thank you for reissuing it and thank you for the extra that's going on my baby board! You are the man Kyle Chase!

Hi Kyle, got the pedal and good lord this thing SMOKES. My LP with humbuckers into a Princeton it just explodes! Great pedal!! Thanks, M

You were right Kyle! I'm loving the pedal! Overdrive sound is killer!! … I haven't really budged off the setting I dialed in 30 seconds after hooking it up! Mids and Feel all the way right … Bass almost all the way left … Fuzz about 10 oclock and Vol 2:30ish … it's a beautiful thing! -B

I received it yesterday. Sounds and feels even better than I remember.. Thank you so much. You are working righteousness brother. I appreciate you not prioritizing profits and keeping this affordable. Its truly a uniquely honed circuit proven by its performance. – A

Just got my red and wow is all I can say. Well this red one brought all my fuzz face mojo back with this amp. It's just amazing and so many sounds in it. Between that and the purple stardust I basically have every fuzz sound imaginable, so damn cool. Thanks as always for making amazing products that the average guy can afford and enjoy Thanks, S

Hey Kyle!! The Red Fuzz Fella just arrived. Thanks so much for the Wah screws too! Dooood!!! The pedal sounds so good! Even better than I remember the Red Velvet sounding!!!
It's awesome Kyle. Can't wait to get it loud! This Red Fuzz Fella sounds so good. Never selling it! Thanks again B

Hey Kyle, The new Red Fuzz Fella showed up today. Ive been on it for a couple of hours now…! Im blown away! Great range of Tone and great boost. Its a lot more… Thanks for making such a cool pedal! -A

I got to open up the new one today into a super reverb that my friend has. Holy jimi tones is all I can say. It's all there, there is just so much in this fuzz. From the overdrive to jimi decaying fuzz, this thing is amazing. I also tried the octave fuzz before (I loved that so much better) and tried the original fuzz fella and it still sounds amazing. All three are such a great pedal and my vox wah which has your pot is also so good. Just wanted to send another note of thank you, your products really make playing so much more enjoyable. Thanks, S
---

Hi Kyle I love the '68 RVF™ pedal …. I used it in front of 35,000 plus people last night at a festival in Michigan and it sounded fabulous!

– Owen Barry
---
Dan & Mick from have lots of lasting

FUN

playing the '68 RVF™ through 4 different guitars!
♪ Stratocaster ♪ (melodic, tasteful Hendrix-esque)
"Hear the wrap wire on the strings!?"



♫ ES335 ♫ (honky, syrupy fat midrange)
"Wow!!!!! MAN!!!!!"
♫ Les Paul ♫ (Rock n Roll FUZZ tones)!
"That is….. killer!"



Lastly, check out the ♪ 29:37 ♪ mark with all pedals ON. The '68 RVF™ takes it into another Fuzz Galaxy! Lots of FUZZ TONE!
---
~Pedal Board Friendly Control Design~
~ Capture Iconic, Elusive Tones or Fine-Tune Your Own ~
Features, Components & Hardware Include: PREMIUM QUALITY WITHOUT THE PRICE
Professional Low-Noise PCB DESIGN: FULL PCB GROUND PLANE enhances low noise design. 1960s Brown finish like the old UK Paxolin boards.

Stable Performance On-the-Road- Temperature independent for consistent performance.

Standard 9VDC Polarity Power- Center Negative (Standard) or 9Volt Battery.

Components Include: Vintage-Spec, New Production

Cherry Picked to "Cream of the Crop specs" BC183C Silicon Transistors– Only handpicked transistors are used. Perfectly matched for harmonic saturation for a sound that is pleasing to the ear and feels right to keep on playing. Checkout our preferred transistor analyzer below. (These are stock Google images but it's the same unit.)


Vintage-Spec, New Production, Low Noise Carbon Film Resistors in 50+ year Aged 'fine-tuned' values.
Vintage-Spec, New Production, High Quality BC Axial Electrolytic Capacitors
Vintage-Spec, New Production Metalized Polyester Capacitor (like a vintage tropical fish capacitor.)
Hardware Includes: Hand-wired Jacks and Switches for Ultra Reliability On-The-Road
Future Retro CLEAR Impact Resistant LED BEZEL with Wide Viewing Angle.
'1960s British Cherry RED' Powder Coat Finish (Zero Ozone Emissions and Ultra-Durable) with Vintage-Inspired DURABLE PRINT.
High quality 1970s style aluminum enclosure: 4" Long x 2.4" Wide x 1.5" High. Fits in the palm of your hand!
REAR MOUNT JACKS = FIT ON VIRTUALLY ANY PEDAL BOARD! High Quality Switchcraft Jacks Hand wired for Ultimate On-The-Road. (JACKS ARE NICKEL-PLATED)
High Quality, EPOXY Reinforced 3PDT wired for TRUE BYPASS (SWITCH IS NICKEL-PLATED). NO or low POP.
Mini Replica 1960s Black Retro Control Knobs!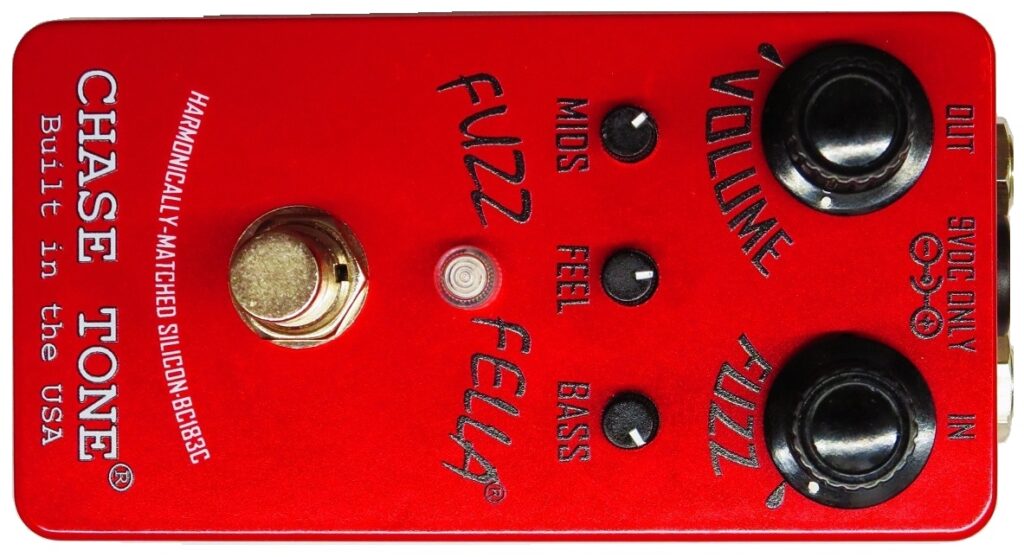 Our Philosophy: "Inspired by Tone®"
"We take a passionate approach in deciphering iconic, elusive tones– the same elusive tones that inspire you. We design our professional-grade products to inspire you on whatever musical quest you seek — house rocker, local clubs, studios, large theaters and world concert stages. So, step on your CHASE TONE® equipped pedals and live your musically creative life to the fullest. Professional-grade products, built out of passion, that truly inspire- now that's something worth playing." – Kyle Chase, President of CHASE TONE, INC.

---
Have a question? Please use the contact form below including your name and country and we'll get back to you shortly!