Contact us to get on the CHASE TONE ® Picture Wah™ Wait List for the next production run!
We also have the Chase Tone® Scripture Wah™ Wait List that Hybrid Captures the best vintage Signature (Script) and Picture Wahs all-in one! New MP3s coming soon!
CHASE TONE™ Vox Clyde McCoy 1967 Picture Wah Replica

The CHASE TONE™ 1967 Picture Wah™ has a pronounced, thick vocal 'WAH' voice with a longer, smoother bass-midrange-treble sweep; extremely vocal both clean and distorted. The detailed and toneful mid and high frequencies cut through the mix with ease, but are fine-tuned for a smoother flavor top end compared to vintage originals, so there's no ear fatigue. Please check out the sound sample below!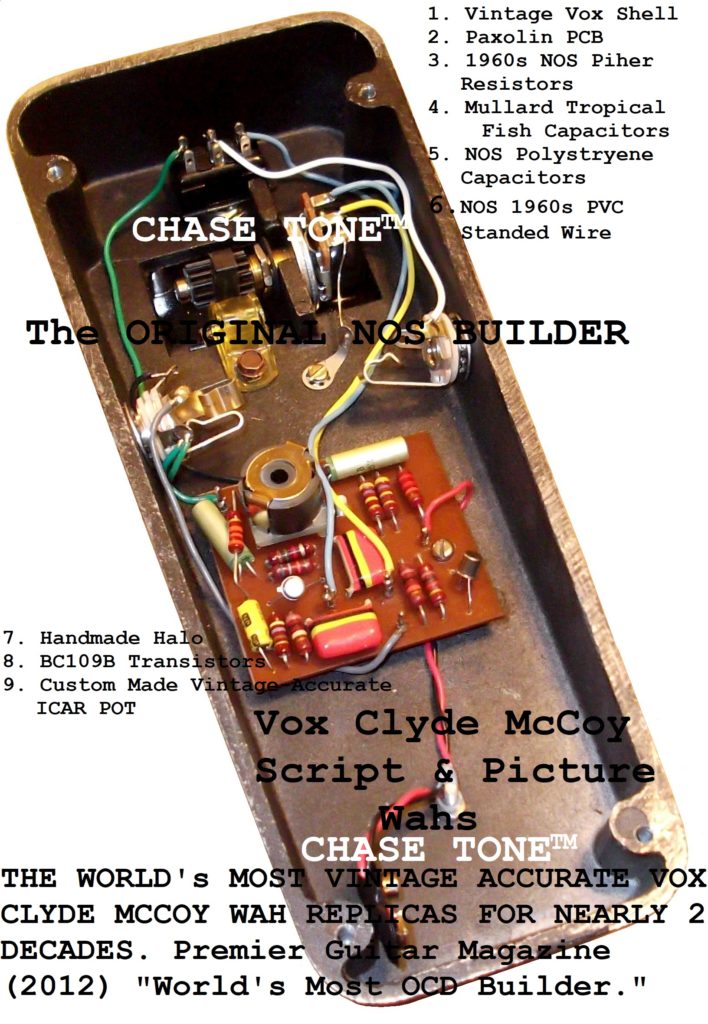 "When it comes to hardcore authenticity in vintage gear replicas, no one tops Chase Tone." – Premier Guitar Magazine May 2012
Closet Classic
–

Vintage Black Texture

&

Hot Rod Chrome

–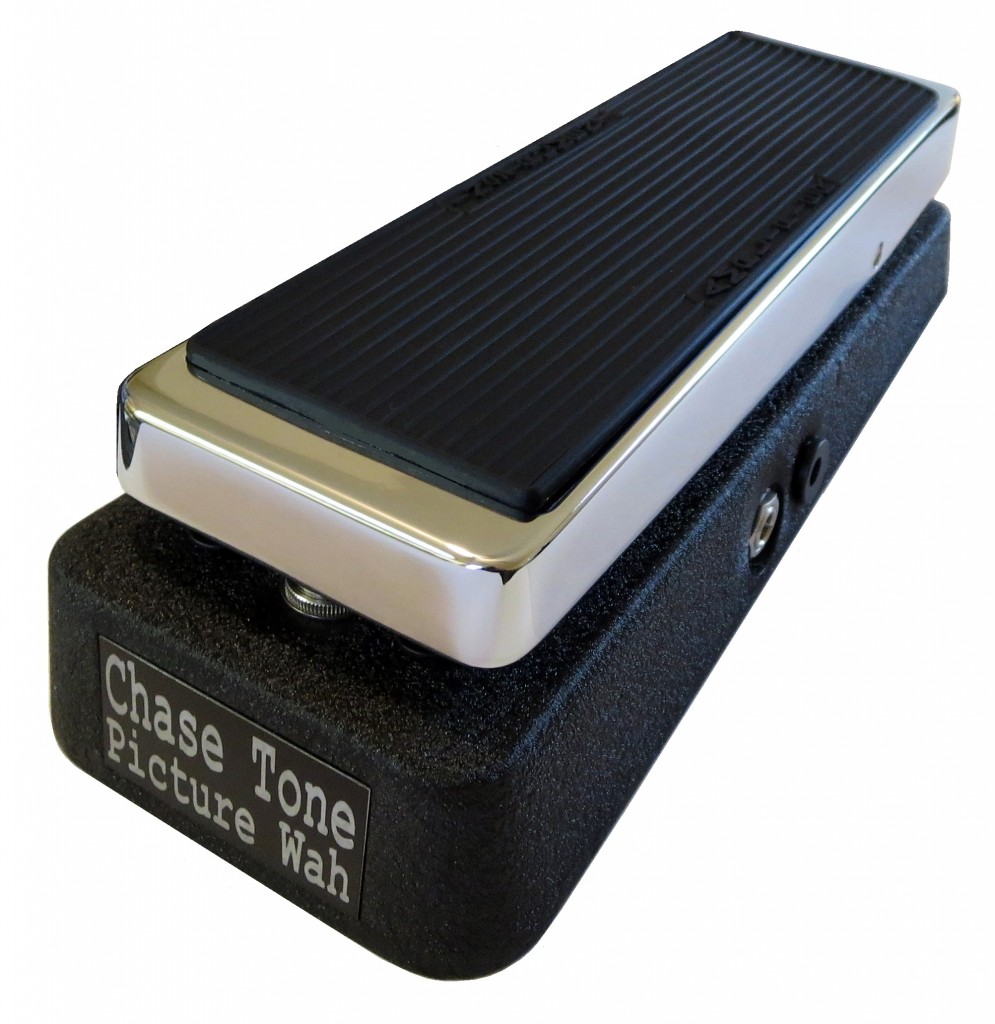 Chase Tone has replicated the vintage black texture of the 1960s! The finish is a powder coat offering superior durability and zero ozone emissions! The chrome is a hexavalent chrome – the same chrome used on 1950s & 1960s hot rods!
"The Picture Wah and Fuzz are nothing short of Amazing! Either together or by themselves, they are perfection. They are worth every penny and more. I appreciate the work you put into these. Simply top of the line." -Travis
Features include:
* Military Grade Fiber Glass Circuit Board with Plated-Thru-Holes for a superior connection able to withstand years of world tours.
* Handmade Halo inductor as found in the 1960s Vox Clyde McCoy Picture & Script wahs. The proper ferrite for the proper sound. This is not a typical reissue halo inductor on the market. Wound to proper specs and dual potted for noise free performance and reliability- High Temperature Military Epoxy is used in a dual step process to pot the coil and then the ferrite/inductor to withstand the impact and vibrations of a world tour. When near a loud vintage tube amplifier the inductor reacts similar to a guitar pickup compressing and delivering a unique sonic signature voice but micro-phonics are reduced due to the potting method used. (This inductor will not give problems on a loud stage where other inductors can howl and feedback making the wah unusable. The potting process also ensures long-life reliable performance.)
* New Production  (1968-1969 material & cosmetic spec) Carbon Film Resistors.
* Custom made low gain silicon transistors to exacting specs of the best NOS European transistors found in the original Italian Vox wahs.
* Real vintage 1960s Mullard Tropical Fish polyester capacitors. Same used in original 1960s Vox Clyde McCoy Wah Wahs.
* Rare, high quality NOS Polystyrene capacitors as used in the original Clyde McCoy & Italian V846 Wahs. Prized by audiophiles for the ultimate silky-smooth, clear tone.
* Bipolar electrolytic capacitor as found in original Italian Vox V846 wahs.
* PVC stranded copper wire.
* True-Bypass Ribbed front bumper to prevent accidentally turning off switch but still allow easy turn ON ability.
(Custom Option: Vintage-Bypass: This lessens high end offering a smoother warmer response from some vintage tube amplifiers. Vintage-Bypass is part of the sound heard on those famous recordings and changes the wah tone in the ON position slightly, so it can be built this way to replicate this.) Customers normally prefer True-Bypass unless using only a few pedals and loud tube amplifiers.
* High quality Switchcraft open jacks.
* Adapter jack on output jack side of chassis for negative (standard) ground adapters. Polarity protection and noise filtering circuitry installed.
* Black bottom plate (with large vintage replica rubber feet) same as transitional wahs in the Clyde McCoy to V846 era.
* Improved pivot mechanism offering a smoother performance. It will not flop forward when leaving it in one position for that vowel-y frequency mid or treble boost.
* Ultra Lightweight Aluminum weighs a fraction of the traditional zinc wah enclosures!
*Built with pride and care, and individually fine-tuned and tested one at a time in the USA.
Wah Output Buffer: "Ensures impedance matching with various distortion devices for uncompromising wah sweep."
 Item arrived very quickly. Beautiful pedal, high quality build, amazing tone!"

Awesome wah! I've owned other custom wahs and this is my fav!"

Wah Perfection! Seller has the best communication I have experienced EVER!"

Great seller, friendly and trustworthy, product exceeded my expectations"
-Order Details-
$410 purchase price. (Limited Production Item)
Free shipping anywhere in the world! (USPS Priority Mail with tracking. Insurance dependent upon country.)
30 Day Return Policy for USA buyers.
☆ 5 % discount  for United States Veterans ☆
Contact Us for more details!
——————————————————————————————————————————–
Sound Clip:

Vox Clyde McCoy Picture Wah Replica
Sound Clip Description:
1957 Fender Tweed Champ Replica w/ Deluxe size speaker cabinet & 12″ Weber Alnico speaker.
1968 Fender Stratocaster Replica w/reverse staggered pickups, reverse angled bridge pickup, and reverse neck. Tone control modification to bridge single coil pickup.
Korg Digital Recorder- Reverb added for ambience.