CHASE TONE® PURPLE STARDUST™ HI-OCTAVE REISSUE is SOLD OUT direct from CHASE TONE. Please check THESE GO TO 11 in Sweden for limited available stock for this rare pedal!
"Eerily reminiscent of iconic later 1960s Hi-Octave sound effects with that vowel-y, vocal and voodoo haunting mid-range! Truly an analog sound effect of an exploding Purple Star into Purple Stardust™!"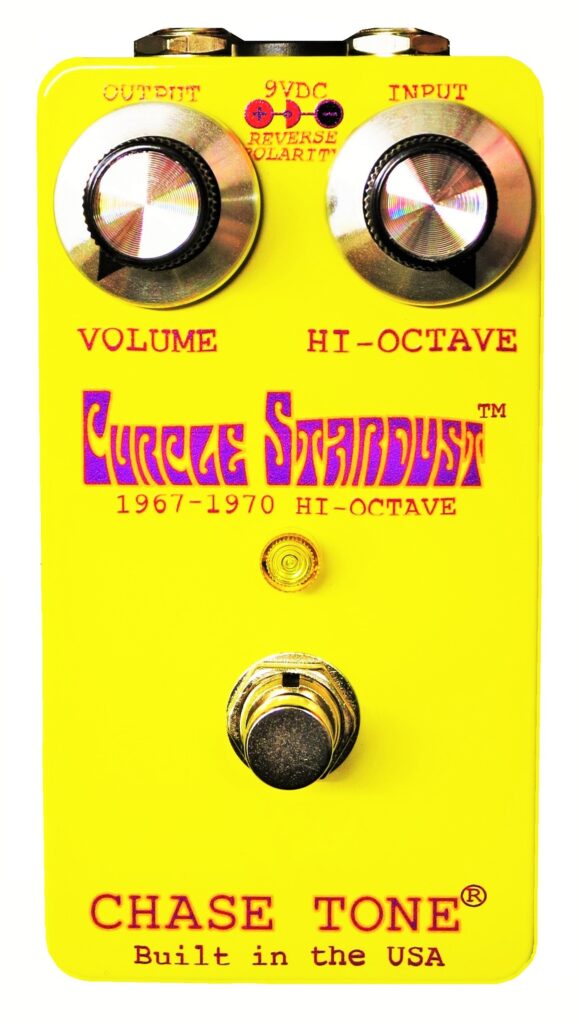 Power Note: 9VDC Reverse polarity positive center or battery.
Special circuit tuning allows improved Hi-Octave note tracking across the fret board via Neck Pickup with a pronounced Hi-Octave effect that cuts in a band mix with musical authority. (You do not need to play just the 7th or 10th frets or higher for Hi-Octave. You can play full bar chords anywhere.)
The Hi-Octave Knob setting fluidly and seamlessly blends from 1967/1968's thinner sharper cleaner yet warmer germanium Fire and Purple Haze like Hi-Octave (NPN/PNP silicon transistors w/matched germanium diodes) to 1969/1970's increased overdrive, even-order harmonic saturation and more authoritative EQ punch of the Band of Gypsies era that's never ear piercing. Always retaining a sweet top and haunting mid-range.
Hi-Octave Knob at 11 o'clock is the Goldilocks setting hybrid capturing 1967 to 1970!

Brushed Aluminum Silver-y Knobs! 1960s Gloss Yellow Powder Coat! Purple Silk Screen w/Fire Orange Outline! Amber LED that's Fire Red when ON!
Extremely low noise design. Never oscillates or sounds overly constricted, gain-y or harsh. Always maintains an open fluid singing Hi-Octave tone.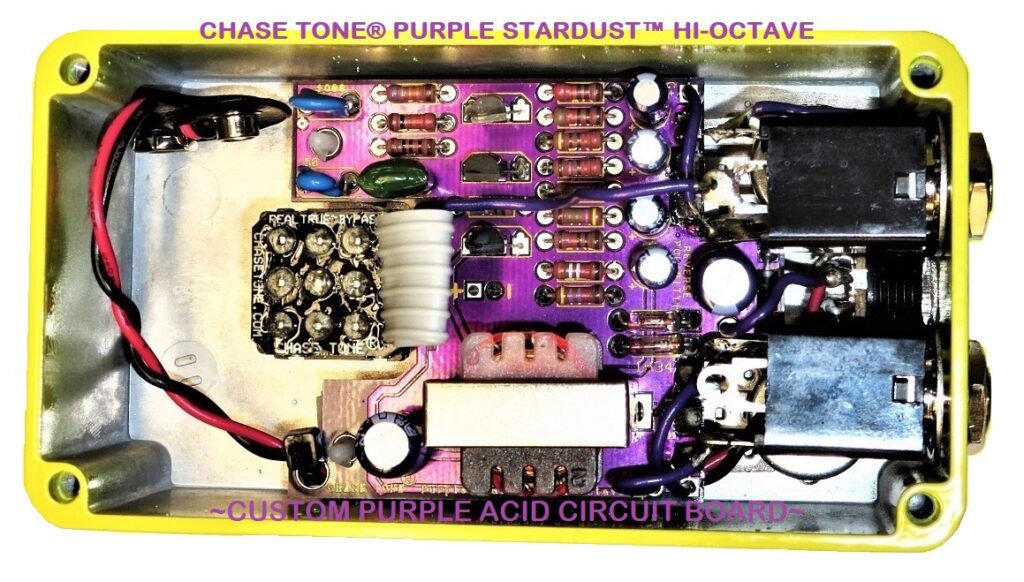 The Purple Stardust™ is designed to run straight into an amp for clean to over-driven Hi-Octave tones or EASILY stacks into or after an overdrive or fuzz pedal producing a very unique musical Hi-Octave Overdrive or Fuzz effect. Uniquely compliments the player's own rig and maintains an extremely dynamic touch response. This makes it an incredibly useful tone tool in a guitarist's arsenal for both adapting to different rigs while keeping its inherent vibrant exploding tone.

♫ Matt Cummings Sound Clip for just a taste of the Purple-y, Gypsy-like, haunting mid-range Hi-Octave in a band mix! The exploding Purple Stardust Hi-Octave analog effect turns heads and makes a musical statement. ♫



 

How does the Purple Stardust™ Hi-Octave compare to vintage 1970s Hi-Octave units?
In comparison… it's a unique experience w/primarily being a harmonically rich Hi-Octave with ring modulation and even elusive low octave sounding ghost notes depending upon the pick attack.
The 70s vintage circuits are a mess with an incorrectly wired Intensity pot, an incorrectly installed Q1 Transistor, and is mis-biased (spec'd for 24volts yet runs on 9volts.) If you are tired of the overly gain-y, noisy and treble-y Octaves, we agree with you and it's the reason we've created the Purple Stardust™ Hi-Octave nearly a decade ago.
The CHASE TONE® Purple Stardust™ Hi-Octave has negative feedback stages, accurately biased new production, vintage-spec, low noise NPN/PNP transistors, an optimally wired Intensity Control as well as a custom spec taper, altered circuit values and matched germanium diodes for a superior sounding fine-tuned version with amazing touch sensitivity that satisfies and expands a musician's horizons across the fret board for both improvised rhythm and lead.
---
CHASE TONE®

Players Before Profits®

Pricing!
Used prices on original Purple Stardusts range from $400 to $1,000.

U

S

A

: $10 USPS Priority Mail with Tracking. 5 to 10 Business Days for Delivery from Shipment Date. USPS currently has longer handling times. (Actual shipping costs.)
Canada/Europe/Asia/UK/Australia: $35 UPS to most countries. Delivery around 5 business days or less once shipped. USPS First Class Mail with Tracking may be substituted for some countries. Approx. 7-14 Business Days for Delivery from Shipment Date for USPS. Customs may add additional wait times. (Actual shipping costs.)
30 Day Satisfaction Guarantee for

U

S

A

Buyers. Absolutely Guaranteed.
☆ 5% purchase price discount for United States Veterans with FREE

U

S

A

SHIPPING! ☆ (Please Contact Us!)
SOLD OUT! Please check THESE GO TO 11 in SWEDEN for the last production run!
---
Have a question? Please use the contact form below including your name and country and we'll get back to you shortly!
Our Philosophy: "Inspired by Tone®
"We take a passionate approach in deciphering iconic, elusive tones– the same elusive tones that inspire you. We design our professional-grade products to inspire you on whatever musical quest you seek — house rocker, local clubs, studios, large theaters and world concert stages. So, step on your CHASE TONE® equipped pedals and live your musically creative life to the fullest. Professional-grade products, built out of passion, that truly inspire- now that's something worth playing." – Kyle Chase, President of CHASE TONE, INC.


---
Hey Kyle! I am loving the purple stardust! Wow! You really captured the essence of the original. It seems maybe a little smoother and less gainy than the old one, which I actually really like. Man the feel under the fingers is so smooth and dynamic. I'm really loving it! As usual I'm going to see how much I can sneak this in to my country gigs without getting kicked off haha! I will definitely send you some clips when I am able. Thanks again for everything Kyle! -Mathew
I really love my Purple Stardust. I've got a few octave pedals, and it's is my favorite of the bunch. Joshua
Hey Kyle, The purple stardust is utterly fantastic. Kicked a damn good octavia clone off my board. Something in the mid-range that just inspires me more to phrase differently. Truly special man. Brandon
Hi Kyle, Thanks so much on the quick delivery of the Purple Stardust…I didn't expect to get it so quickly! It's a very interesting pedal that I'm only beginning to get the measure of. In my mind I expected it to be more of a full-on fuzz with octave kind of pedal, like the Univox Super Fuzz, for example. This pedal is different than that – a purer octave effect with ring modulation and fuzz overtones, depending on how it's set and what pickups you're using on your guitar. Also, when I play with the treble pickup of a Strat, I get a VERY convincing sitar effect. I didn't expect that! Our band covers "Hooked on a Feeling," and I can see this sound coming in handy. As you noted, it really sounds great with the Fuzz Fella. I like it both before the fuzz, where it gives a fuzzy octave effect a la the Super Fuzz, but I REALLY like it AFTER the Fuzz Fella, where it gives this incredibly compressed and sustaining octave fuzz sound. I haven't tried it into an amp that's at high volume yet…I have a feeling that may open up an entirely different world. A VERY interesting pedal! Frank
Kyle, It arrived! I had a reverse polarity cable and a dedicated power supply ready to go thanks to our correspondence. It's AMAZING! This is an incredible sounding pedal. Wow, man, it sounds absolutely stellar after the right kind of dirt / fuzz. I'm blown away, thanks SO much! It's like it makes actual stardust shoot out of your tone, sparkles up whatever you're using with it. Very best regards, Jeff
Kyle, I had such a fun time playing the Purple Stardust today – I've put together a small board where it can run on a battery and be at the front of my signal chain, as you suggested in an earlier correspondence. It sounded so sweet, and put an amazing shine on whatever pedals I ran after it. I've never had something that nails the solo tone octave up effect I love – some of my favorite guitarists from Jimi Hendrix to Joe Satriani has some great recorded octave tones, but this is the first pedal that brings me that capability and it's great to be able to make these kind of sounds myself! I really appreciate you extending this offer to me in the first place, made it possible for me to enjoy the best dang octave fuzz I've ever used. I hope the holiday season has been good for you. Those blem Fuzz Fella Reds are tempting me too, haha. Very best regards, Jeff
Got the pedal.. it's BEAUTIFUL. thank you all for what ya do. ya do it well. live well. gotta hook it to all my fuzz'z…got a thang for fuzz'zzz. this pedal is beautiful & jist git'n it started.. bless you/yours thanks for your time,patience, kindness this pedal had alotta friends here.. alot ! I love noises ya'll – Tom
Kyle, this thing rules. Thanks again for the cable. Cheers – Mike