We are completely sold out of the Chase Tone Italian Crybaby Wah Replica. Please contact us to be placed on the Chase Tone™ Scripture Wah™ Wait List.
~ Chase Tone Italian Crybaby Wah Replica ~
     The Chase Tone Italian Crybaby Wah Replica is patterned after the original 1969 – 1970s Italian Vox Crybaby Wahs. The custom tuned sweep is balanced perfectly in between a Vox Clyde McCoy and Italian Crybaby Wah- make the notes sing with ultimate ease! Perfect for that epic wah solo that turns heads! Reminiscent of Rainy Day Dream Away and Come On (Let the Good Times Roll) Guitar Solo from the Electric Ladyland LP. Equally reminiscent of 1970s Jimmy Page!

~ EPIC Hammer Green~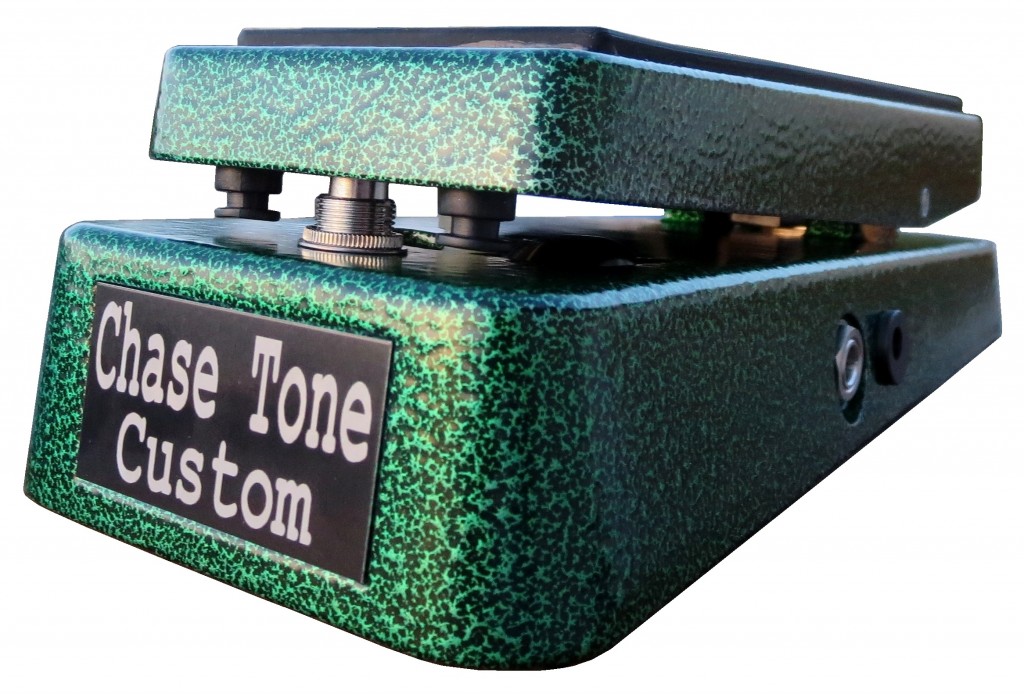 The finish has zero ozone emissions and is very durable with low maintenance.

"dude, i can't tell you how happy i am with it. can't wait for you to hear this one solo on the new EP with the wah.. it's EPIC! seriously loving every note played on it man. and it sounds wonderful both clean and dirty with any other pedals too. YOU ARE THE MAN! this wah literally makes me weep."

– Nick Perri
Hardware Features include: "High Durability and Low Maintenance"
Chase Tone ultra-lightweight aluminum casing
Vintage Black Texture base
Hexavalent 'Old School' Hot Rod Chrome Rocker
1969 era spec tall angled black rubber feet
Carling DPDT True Bypass Footswitch
Wah Pot with a unique taper spreading the Mid-Treble region out for a sweep that's balanced perfectly in between a Vox and Crybaby Wah- Make the notes sing with ultimate ease and without hesitation.
USA Made Switchcraft Open Input & Output Jacks for reliability w/ anti-slip star washers
 

Unbelievable seller! Best Wah ever! Customer service is outstanding!!!! Thanks!

– Paul
Electronics include: "Combination New & Old components and circuitry"
BC109A custom made vintage accurate transistors for an authentically original Italian era Vox Wahs. This is a VERY RARE vintage spec transistor utilized in the BEST vintage Crybaby wahs with a unique midrange-treble bite.
Late 1960s – Early 1970s spec carbon film resistors
Replica 1969 V846 Wah circuit board in military grade fiberglass and PLATED-THROUGH-HOLES for a secure and reliable connection on the road
NOS Fasel inductor – A key element in the unique saturation and vocal response of the Chase Tone Crybaby Replica.
New Old Stock Mullard Tropical Fish Capacitors for a pleasingly thick tone.
Ducati style Polystyrene NOS capacitors- The ultimate warm smooth silky wah capacitor with identical sound to the Clyde McCoy era wahs.
* Vintage Original NOS Fasel Inductors. Authentic laughing & crying baby wah voice that cuts through the mix without sounding shrill. Excellent as a filter boost which compresses slightly with a cranked distorting tube amplifier. (This is not the current Dunlop Fasel Reissue Inductor that's maroon colored.)

Circuitry includes:
Wah Output Buffer: "Ensures impedance matching with various distortion devices for uncompromising wah sweep."
-Order Details-
$389 purchase price. (Limited Production Item)
Free shipping anywhere in the world! (USPS Priority Mail with tracking. Insurance dependent upon country.)
30 Day Return Policy for USA buyers.
☆ 5 % discount  for United States Veterans ☆
Contact Us for more details!
____________________________________________________________
Sound Clip:
Talking & Laughing Italian Crybaby Wah!
Sound Clip Description:
1957 Fender Tweed Champ Replica w/ Deluxe size speaker cabinet & 12″ Weber Alnico speaker.
1968 Fender Stratocaster Replica w/reverse staggered pickups, reverse angled bridge pickup, and reverse neck. Tone control modification to bridge single coil pickup.
Korg Digital Recorder- Reverb added for ambience.
The first run is completely sold out in the limited edition Italian green with hexavalent chrome rocker top!

Customers who purchased the Chase Tone Custom Italian Wah also liked the Chase Tone Red Round Replica! Please click the below photo to display more details! Thank you!