Currently SOLD OUT on website due-to-high-sales-volume! Contact us for the wait list for the next production run shipping soon!
Last run was Limited Production (Due-to-limited quantities of 40-50 year old vintage stack-of-dimes inductors)
Chase Tone® Gypsy Wah™
The Chase Tone Gypsy Wah brings the famous wah tones of 1969 -70 Live Hendrix into the future with a combination of hand-selected, vintage-accurate, new old stock components (including 40 year old original vintage inductors) and 2014 Chase Tone features such as input and output buffering.
"Oh my God, I just got through playing the Gypsy Wah™ for almost an hour and that thing is magical! That wah is pure Jimi. I have a couple of really good wah's, I have an [name removed] and an [name removed] but the Gypsy Wah™ just sounds better, more expressive and juicy you have to hear it to experience it. I was amazed at the sound and I just couldn't stop playing. It nails Voodoo Child and Burning Of The Midnight lamp just perfectly. It's dead on. You did it man." – Andrej
 ~ Custom Acid Purple Translucent Vein ~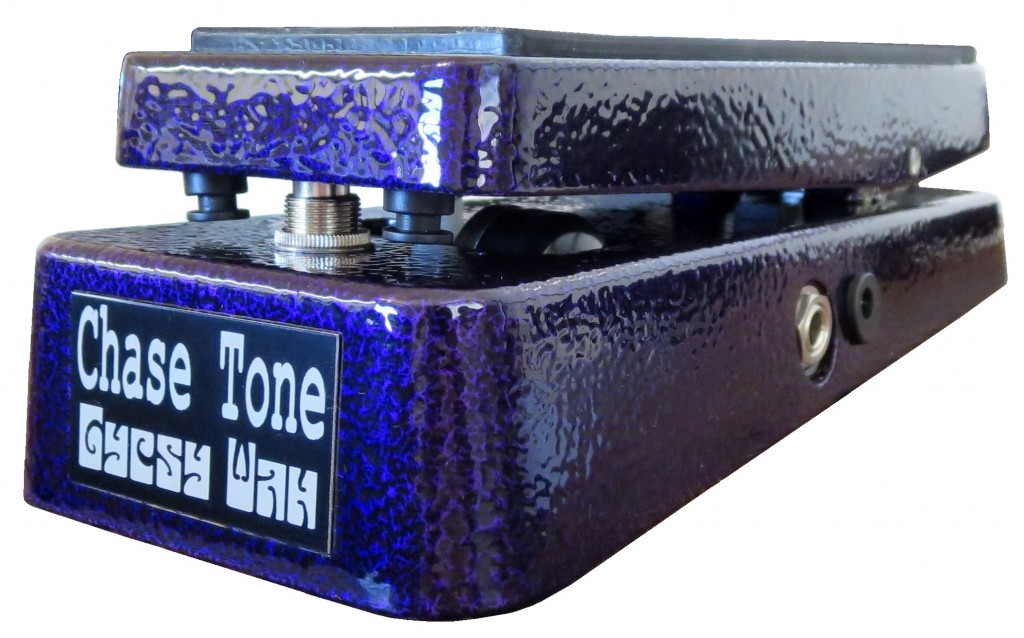 The Gypsy Wah™ is fatter sounding, more transparent and the toe down position has a nice juiciness there [comparison to the Script Wah]. I played the Gypsy at gig volume last night and the Wah is very much as advertised. The sweep is very cool and you can still do the pulsing/watery thing if you want.  Yes, the vowels" are a little more "hollowed out" sounding than the Script, but the notes seem to "jump out" more and are not "strangled"  anywhere within the sweep…. I still feel a bit "old school" about input and output buffers on board – but they are adding more boldness to the wah tones without making anything else on my board behave weirdly. Really great. Thanks for the care and commitment to building great stuff! – Mario G.
The culmination of an exhaustive approach equates to an entirely handmade product which appeals to those desiring the iconic 1969 Band of Gypsies classic 'hollow vowel' wah voicing with great filter boost versatility in a fixed position, or pulsed fast for a 'cutting' expressiveness as heard in the legendary recordings of Machine Gun & Voodoo Child (Slight Return).  Capture the vintage, clear watery 1968 & 1969 Italian Vox V846 wah voicing and the lower resonance of the Band of Gypsies recordings. Chase Tone Wah Output Buffer ensures impedance matching with various distortion devices for an uncompromising wah sweep. The Chase Tone Gypsy Wah also highly appeals to those who desire a super funky wah with great transparency.

"Sounds great, the sweep is from another world !! It's rich with a great complexity in the tone." – Vassili
Hardware Features include: "High Durability and Low Maintenance"
Ø  Chase Tone ultra-lightweight aluminum casing
Ø  Custom Acid Purple Translucent Vein Powder Coat Finish
Ø  1969 era spec tall angled black rubber feet
Ø  Carling DPDT True Bypass Footswitch
Ø  Sealed 2 Million Cycle Life Potentiometer

Ø  USA Made Switchcraft Open Input & Output Jacks for reliability w/ anti-slip star washers
 "Well, what can I say? The pedals sound phenomenal!! In the last 20 years I've owned 29 wah pedals, from every boutique builder claiming to have built the best and most accurate pedal, and I never thought I'd ever be 100% happy. I was close to biting the bullet and just forking out $1000 for a vintage pedal, although I know how hit and  miss they can be. Well I'm happy to report that I can stop looking. I've never heard such a full range in a wah pedal and it has a warm growl to die for. " – Brad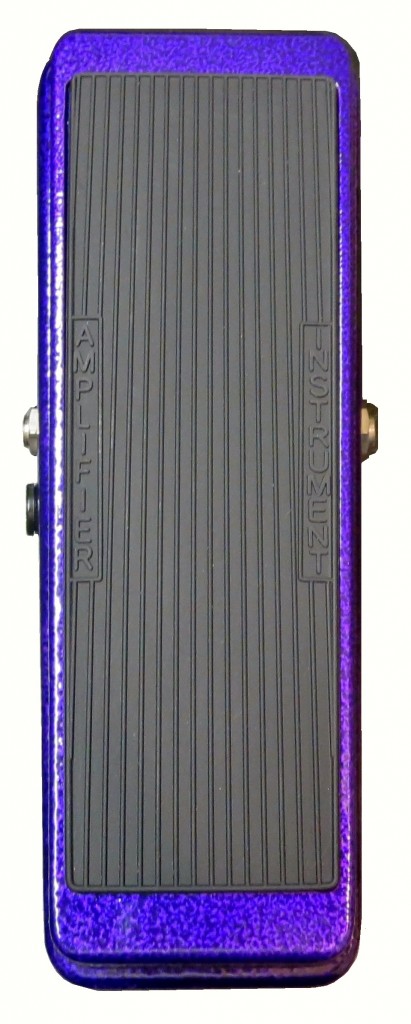 Iconic late 1960s Vox Clyde/Crybaby Elusive Wah Voicing w/ Unsurpassed Expressive Sweep
I just spent a solid hour with my tele plugged into the Gypsy Wah™ and my  56 guild. Sounds really sweet and smooth. Has the biggest jump right in the middle where you can get that fast warble thing going. All the way up it is not harsh. It is musical in a tasteful understated way. It is just like you described it. – Kenny (Super 400)

Electronics include: "Combination New & Old components and circuitry"
Ø  BC549C low noise input transistor gain stage
Ø  BC549B transistors for an authentically smooth and mellow signal exactly like the original Italian era 1969 Vox Wahs with the added benefit of extremely low noise and higher output level ensuring a strong vocal sound
Ø  Original teal Arco polycarbonate capacitor & NOS Ducati style radial polystyrene capacitors for the ultimate in warm vintage wet smooth signal, exactly like the original Italian era 1968-1969 Vox Wahs
Kyle, Got the Gypsy Wah™ in on Thursday. The thing is incredible man. It really sounds amazing. Thanks a lot. – Matt
Ø  Replica 1969 V846 Wah military spec fiberglass circuit board with PLATED-THROUGH-HOLES for the ultimate reliability on the road!

Ø  REAL NOS VINTAGE Stack of Dimes Inductor – A key element in the unique vocal character of the 1968-1969 V846 wahs. Amazing find and amazingly rare!
 Hi Kyle, The Gypsy Wah™ is fantastic!! Vintage voicing / tone and beautiful heavy construction built quality!! The kind of gear which makes me a better guitarist and helps myself to better express who I am as a musician. Its really screaming and « talking » !! In french i would say organique tone [that's] screaming , talking , expressing the notes as the musician wants to. Really impressive. -Best wishes, Olivier
"The Gypsy Wah™ is really exceptional.This is quite the sound I had in my head, it's enjoyable! In addition to being extremely warm, she has this "singing" side which gives soul to the notes, and there is an amazing balance in the mids frequencies. I am really impressed with the quality of "voicing " and the sweep. I'm very happy, the wait was worth it. The finish is really beautiful. Your requirement and your search is totally understandable. I quickly put an ad to sell my (wah brand name removed). In any case I can only thank you for your passionate work again, quality pedal, and to go to you for the sound and amazing tone. Thank you , thank you, thank you." -Jo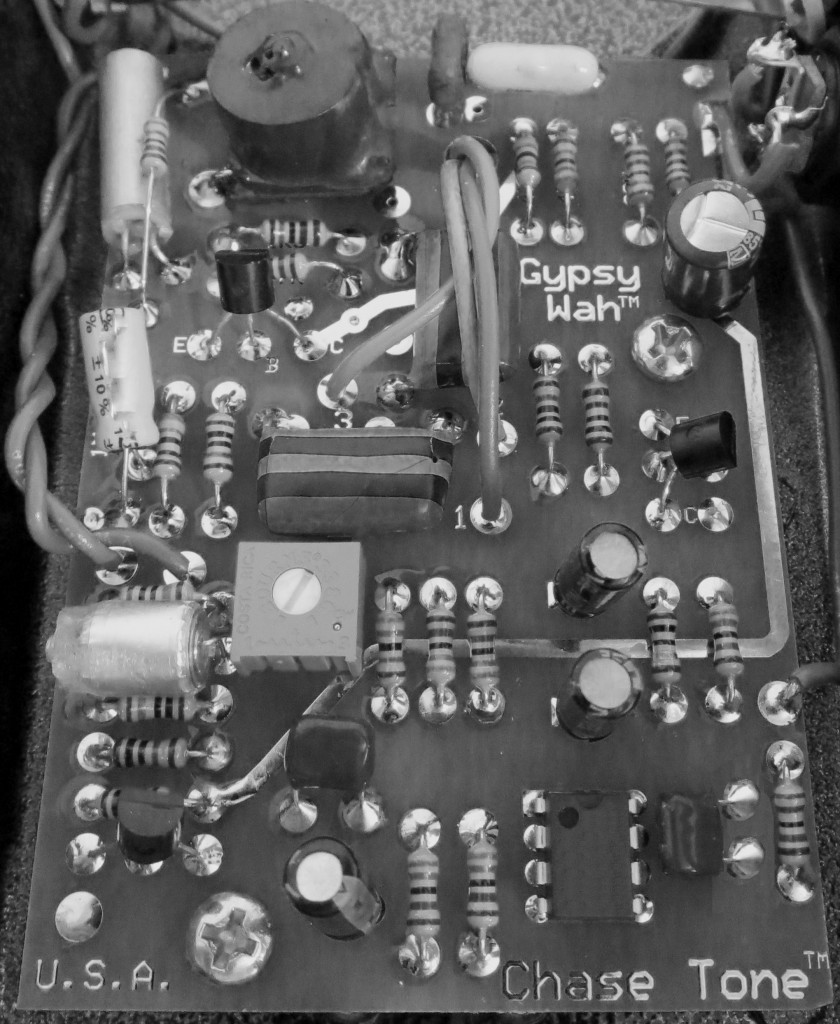 Circuitry includes:
Input Buffer:  "Retains guitar's true brilliance during wah operation for a SUPER VOCAL WAH that GRABS THE NOTES for ease of playing in the style of the Band of Gypsys" (True Bypass remains for the wah bypass to ensure the buffer doesn't 'block' the guitar's output feeding old germanium style fuzz pedals that follow the wah when the wah is bypassed.)
 I've had some time with the Gypsy Wah™ and I love it!!!  The sweep is awesome.  I find myself leaving the wah on in various positions and then moving the pedal sparingly to accent notes and enhance dynamics.  The Gypsy grabs notes easily and lets you take them where you want them to go.   I've been playing it into the Blue Stardust and that combo is insanely good! They do exactly what you expect them to, but they provide lots of unexpected surprises as well.  Amazing tones that inspire!  Many thanks! Best regards, -Trent
Wah Output Buffer: "Ensures impedance matching with various distortion devices for uncompromising wah sweep."
"I was very impressed with how you have tuned the Gypsy Wah™ pedal.  It seems like there are so many different little sweet spots that you can hit that just allow certain frequencies to just jump out.  I really also like the clarity throughout the range of wah tones as I press the pedal up and down really quickly.  But my favorite part about the combination of the fuzz and  wah was just being able to ride that wave of almost uncontrollable growl of sustained tones/harmonics with absolutely no worry that I am going to lose my note, or any of the harmonic content within it. " -Steve
"First of all, I want to tell you that I really love the Gypsy Wah™. What is really interesting for me is that I can use it on the bridge neck of my Strat with any OD, Distortion and fuzz and the sound is really amazing where most of the Wah Pedals available on the market Kill your ears because of the treble. [There's] usually too much aggression when you use your bridge pickup. – Jean-Luc
——————————————————————————————————————————————————————————————-
Sound Clips:
Voodoo Child (Slight Return) Band of Gypsies/Berkley Style Live!
Power of Soul Live!
Sound Clip Description:
-1997 Hendrix Tribute Stratocaster
-Custom Made Marshall JTM 45 Clone
-Custom Made Axis Fuzz Clone
-Chase Tone™ Gypsy Wah™ (With buffer engaged)
Recorded with Zoom H2N Handy Recorder (Band Rehearsals)
Reverb Added For Ambiance
-Order Details-
$389 Purchase Price    SALE PRICE: $349.00 (Due-to-limited quantities of 40-50 year old vintage stack-of-dimes inductors)

FREE SHIPPING ANYWHERE IN THE WORLD!
USPS First Class International
USPS Priority Mail USA

30 Day Return Policy for USA buyers.
☆ 5 % discount  for United States Veterans ☆
Currently SOLD OUT! Contact us for the wait list for the next production run soon!
Have a question? Please use the contact form below including your name and country and we'll get back to you shortly!
Contact Us for more details!
The second run is currently sold out in the below finish!
Closet Classic
– Vintage Black Texture & Hot Rod Chrome –

Chase Tone has replicated the vintage black texture of the 1960s! The finish is a powder coat offering superior durability and zero ozone emissions! The chrome is a hexavalent chrome – the same chrome used on 1950s & 1960s hot rods!
The first run is completely sold out in the limited edition purple with hexavalent chrome rocker top!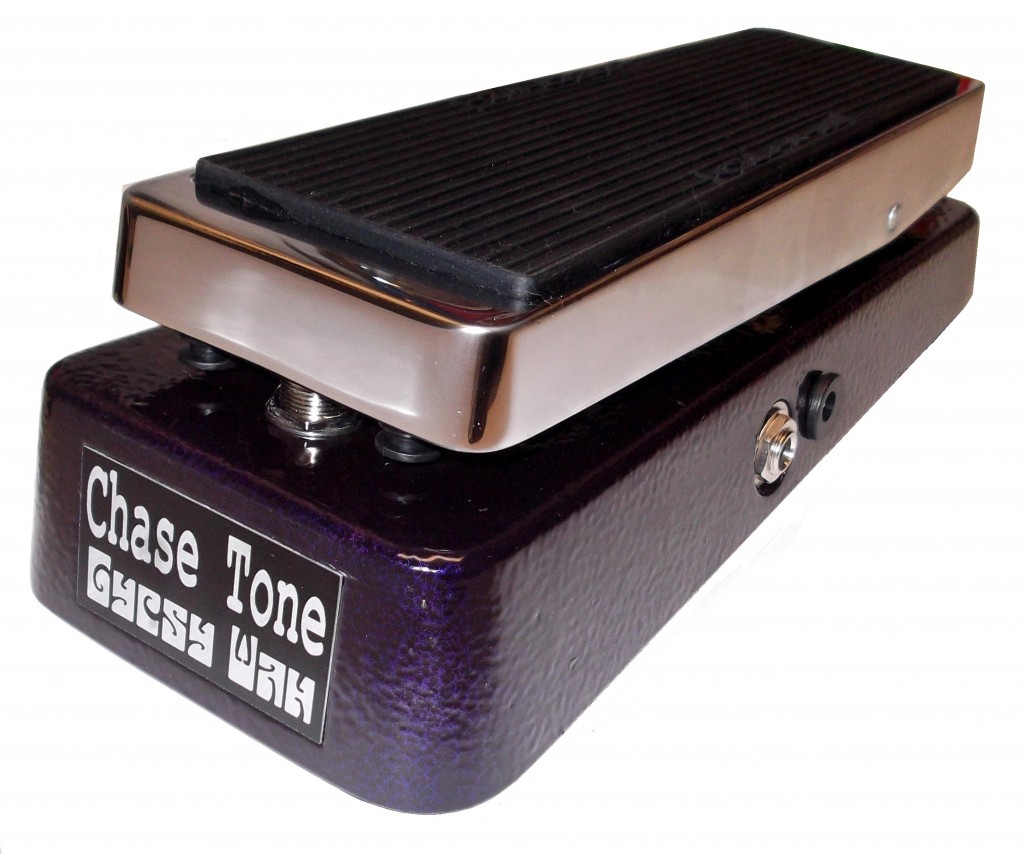 Customers who purchased the Chase Tone™ Gypsy Wah™ also liked the Chase Tone™ Secret Preamp™! Please click the below photo to display more details! Thank you!