Shipment within 1 business week or sooner!
---
CHASE TONE®

FUZZ FELLA®

TEAL

BC109C

Edition aka
DESERT ISLAND DRIVE™



"Think of the most

majestic, wettest, glassiest sounding, sustaining woman tone overdrive with a wide-open yet gnarly midrange and an irresistible treble overdrive snarl compression

that adds that

magic pop to chords and leads as they blend in an harmonious fashion

inspiring pure creativity."
Peter Green's Albatross' harmonically rich cleans. Clapton's overdriven woman tone blues. Allman Brothers glass slide or fretted melodic harmonies. Gilmour's style of soaring overdrive-fuzz all while you are on a deserted island paradise.
This started out as a

tribute to the 70s, and later 80s & 90s Dallas BC109C Fuzz Face

pedals. Then some

Cesar Diaz 80s/90s magic

vintage custom tweaks to increase glassy guitar volume cleanup [I've never seen it before elsewhere but ironically did similar mods myself 20 yrs ago], and then added the

CHASE TONE versatility

and expanded controls so you can

fine-tune your own magic!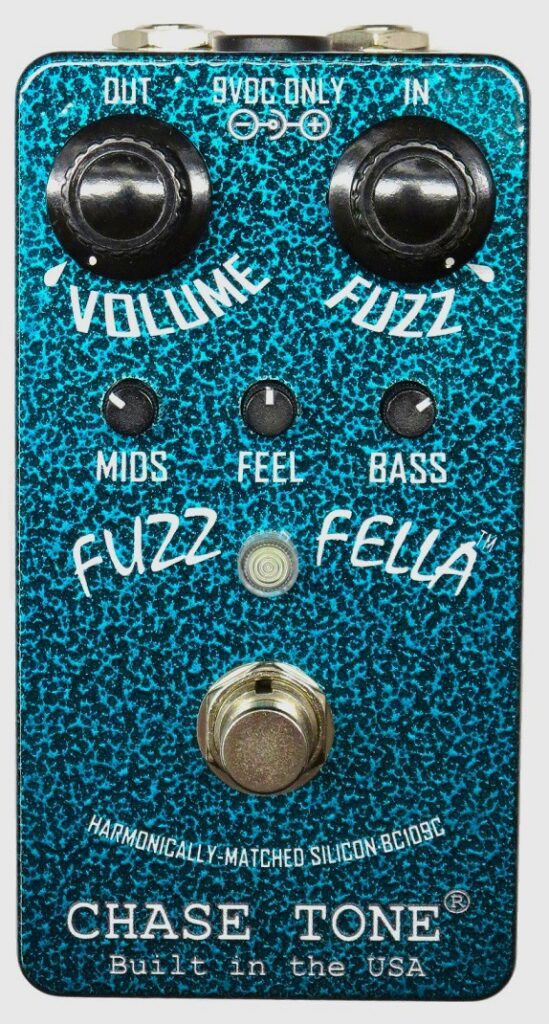 "If you've ever experienced a cranked 60s Fender black panel amp dripping with wet tone, this pedal does that in a deserted island way!"

"Drips with Tone™"
Gnarly FUZZ when you want it! Dime FUZZ & dive MID/FEEL & use BASS as a gain control for THE perfect

In-A-Gadda-Da-Vida

gnarly trippy fuzz tone that's pure musical riff writing inspiration. No gimmick. Usable pure harmonically rich saturated irresistible fuzz tone that would make Austin Powers proud!
FEEL at 1 o'clock & reduce BASS for

Clapton's Woman Tone [late 60s Gibson & modern Strat]

when it was the glassiest, wettest and most sustaining sounding. Use the MIDS knob to add the perfect honk.

BASS frequencies are tighter on this one with a

faster response

and attack keeping up with rapid chording & improv for island reggae music. Clean up has a compression for even attack & feel.

LOTS more output on this TEAL edition with a very wide-open midrange that's always present in the mix. Has a

GLASSY CLEAN BOOST function

when MIDS/FEEL/VOL are dimed w/reduced FUZZ/BASS settings.




Desert Island Translucent TEAL Custom Powder Coat w/TEAL LED when LIT!
CONTROLS
FUZZ

control (full range),
MAGIC MIDS

control (Now MAGIC MIDS doubles as TONE Control WARM-MIDS-TREBLE as turned). Keep MIDS at zero for warm vintage tones. Turn up glassy mids/treble & output.
MAGIC FEEL

control (EXPANDED range adjust from harmonically rich toneful Germanium-like In-A-Gadda-Da-Vida (0) to Gilmour (11 o'clock) to Woman Tone (1 o'clock) to Allman Bros (max),
BASS

control (humbuckers! resolve wah compatibility!! & buffers before fuzz! which is INCREDIBLE with this pedal adding to the gnarly midrange & treble snarl),
STANDARD POLARITY

(or battery),
PERFECT TEMPERATURE STABILITY

every time, every gig, every session!!!
Components
Vintage-Spec, New Production, Low Noise Carbon Film Resistors.
Vintage-Spec, New Production, High Quality BC Axial Electrolytic Capacitors
Vintage-Spec, New Production Metalized Polyester Capacitor (like a vintage tropical fish capacitor.)
Hardware Includes: Hand-wired Jacks and Switches for Ultra Reliability On-The-Road
Future Retro CLEAR Impact Resistant LED BEZEL with Wide Viewing Angle.

TEAL LED when LIT!
'Desert Island Translucent Teal'

Powder Coat Finish (Zero Ozone Emissions and Ultra-Durable) with Vintage-Inspired DURABLE PRINT.
High quality 1970s style aluminum enclosure: 4" Long x 2.4" Wide x 1.5" High. Fits in the palm of your hand!
REAR MOUNT JACKS = FIT ON VIRTUALLY ANY PEDAL BOARD! High Quality Switchcraft Jacks Hand wired for Ultimate On-The-Road. (JACKS ARE NICKEL-PLATED)
High Quality, EPOXY Reinforced 3PDT wired for TRUE BYPASS (SWITCH IS NICKEL-PLATED). NO or low POP.
Mini Replica 1960s Black Retro Control Knobs!
---
CHASE TONE®

Players Before Profits®

Pricing!
$179.99 ONLY 139.98 + PA state tax (if applicable)

U

S

A

: $10 USPS Priority Mail with Tracking. 5 to 10 Business Days for Delivery from Shipment Date. USPS currently has longer handling times. (Actual shipping costs.)
Canada/Europe/Asia/UK/Australia: $35 UPS to most countries. Delivery around 5 business days or less once shipped. USPS First Class Mail with Tracking may be substitute for some countries. Approx. 7-14 Business Days for Delivery from Shipment Date for USPS. Customs may add additional wait times. (Actual shipping costs.)
30 Day Satisfaction Guarantee for

U

S

A

Buyers. Absolutely Guaranteed.
☆ 5% purchase price discount for United States Veterans with FREE

U

S

A

SHIPPING! ☆ (Please Contact Us!)
Shipment within 1 business week or sooner!
---
Our Philosophy: "Inspired by Tone®"
"We take a passionate approach in deciphering iconic, elusive tones– the same elusive tones that inspire you. We design our professional-grade products to inspire you on whatever musical quest you seek — house rocker, local clubs, studios, large theaters and world concert stages. So, step on your CHASE TONE® equipped pedals and live your musically creative life to the fullest. Professional-grade products, built out of passion, that truly inspire- now that's something worth playing." – Kyle Chase, President of CHASE TONE, INC.

---
Have a question? Please use the contact form below including your name and country and we'll get back to you shortly!
Hi Kyle, I received my new Teal Fuzz yesterday. Just fantastic. Looks wise my favorite pedal by far. I hooked up the Les Paul and tried out the In-a-Gadda-Da-Vida setting. So fun. Tried the Strat and 335 and just incredible. Sunshine of your Love on the 335 crazy great sounding. With PAF's I can get some crazy harmonic over tones. I have a Carr Super Bee tube Point-to-point and it just sings with all those. Great work! Thanks again. -K
Hey, just received the Teal BC109 Fuzz Fella. Really great pedal. I love all of the suggested settings, especially "In- A- Gadda- Da- Vida"- nails that tone! I set it at Mids-9 o'clock, Feel-1 o'clock, Bass-3 o'clock, fuzz at about 4:30. This is with a Strat and a pretty clean Marshall combo. Cleans up nicely and all sorts of overdrive tones in between. I can rule the world with this and my Secret Preamp! Thanks for making such great products.
Kyle, These two pedals are the very best Fuzz Face related pedals I've ever used. Thank you so much for getting them in my hands! I dialed in some sound on sound delay and reverb today and just got lost on them for a while, which I have not experienced with any Fuzz Face I have tried before. Excellent control scheme, love how strong the Bass knob is and the Feel too. I feel inspired by sound, man. Love their individual voicings and how they react differently to adjustments. They handle high output humbuckers really well, too. Really impressed. You did a great job with these, man. Very best regards, -J
Hello Mr Chase, Received the pedal today! It's way beyond what I expected… Dead quiet, even on full fuzz when untouched and bringing out the best Hendrix and other 60-70's riffs on full open. It just bring out the best (worst) guitar face in me. Every tone in between is there by a switch of guitar volume or string attack … It's already a classic, congrats Kind regards, -S
Hi Kyle, I got the TEAL BC109C last Monday and wow, I REALLY like this one. Not that I don't like the other fuzzes, but this one is a little different, almost has a Big Muff kind of character to it. It's been a lot of fun to play in the limited time I've had to check it out, and I plan on putting it through its paces this weekend. I see they were snapped up…can't blame people. This is my sixth pedal from you! I don't even have that many Boss pedals. -F
Kyle, The teal sounds fantastic. It's on my board now, just got it. the problem with your fuzz fellas is they're each awesome, so I have to cycle them on my board, I can never decide on one over the other. cheers, -P
Kyle, First of all, holy! This is literally the best sounding fuzz I've ever heard. It reminds me of the bc183 red fuzz fella with more focus and a tighter low end. This pedal is so inspirational its unreal, I have been playing for hours and it hasn't turned off once. I LOVE the finish, this is my favorite one yet, but I do still swap in the others. They all have their own unique characteristics. Actually the boss cs3 before my Teal has a buffer so I get really nice overdrive sounds, but the fuzz just has me in tonal ecstasy. Really intrigued about your next preamp pedal! I LOVE what the secret pre does to my '82 DS1 Appreciate you! Thank you for doing what you do, until your next release My friend! -J
Kyle, Just got my teal today and as usually you've hit it out of the park with this one. I wasn't sure what I was expecting but this thing is amazing. The versatility on this pedal is just incredible. Want jimi, it's there. Srv, Clapton, Duane, it's all there. The thing that shocked me was I found a sound in this pedal that I've been chasing for years and never could quite get. The band I was in twenty years ago did a "reimagining" cover of canned heat's fried hockey boogie and it's one of my favorite songs to play, it's just fun. I've never been able to quite capture that tone and I've tried a ton of fuzz pedals to get it. This absolutely nails that tone, I wasn't remotely expecting that. As always, thank you so much for making great pedals so everyone can afford to have access to these sounds. As usual you were right. These teal pedals after a buffer, man oh man. It feels so wrong because for years and years the line that's repeated ad nauseam is fuzz face has to be first in the chain and baring that absolutely positively no buffers in front of a fuzz face. I don't know how you did it but the dynamics off of this thing after a buffer. And…… it gets into downright nasty territory on full kill. Plus somehow it gets an even cooler, compressed volume rollback deal. It's incredibly weird to run a fuzz face after a delay pedal on my board but it just works. You broke my brain on this one but it's amazing. Thanks again! -S
Kyle: I just received the Teal fuzz. Just wanted to say really outstanding work Sir. The MIDS, FEEL, and BASS have such a wide usable range. It feels as though your previous Red and Blue Fuzzes have reached a pinnacle with this Teal. But what really amazed me was that it works so well with my active pickups guitar. It even cleans up with the volume control. Finally a Fuzz Face I can play with my EMG equipped guitar. Glad I was on the mailing list. Best regards, -B
Kyle – got to spend some time with the pedal yesterday well done! I always hesitate with honeymoon feedback but so far, really good. let's me get all sorts of good glassy tones with the les paul even at lower volumes, really flexible with Tele. Still lots of experimenting to do, but I am really liking it so far. Thanks! -C
---