"Kyle Chase-possibly the world's most OCD builder of new-old-stock amps and effects." –Premier Guitar Magazine Press Release
Chase Tone 1966 JTM45/100 Replica Full Stack
Authentic replica 1966 Marshall JTM45/100 KT66 amplifier full stack. Angled pinstripe cabinet and tall pinstripe cabinet built to exact dimensions and radiuses of the originals. EC Collins' True "Bluesbreaker-Pinstripe" Grill Cloth. High grade quality Baltic birch wood and original 1960's vintage pine internal cleat bracing and sound posts.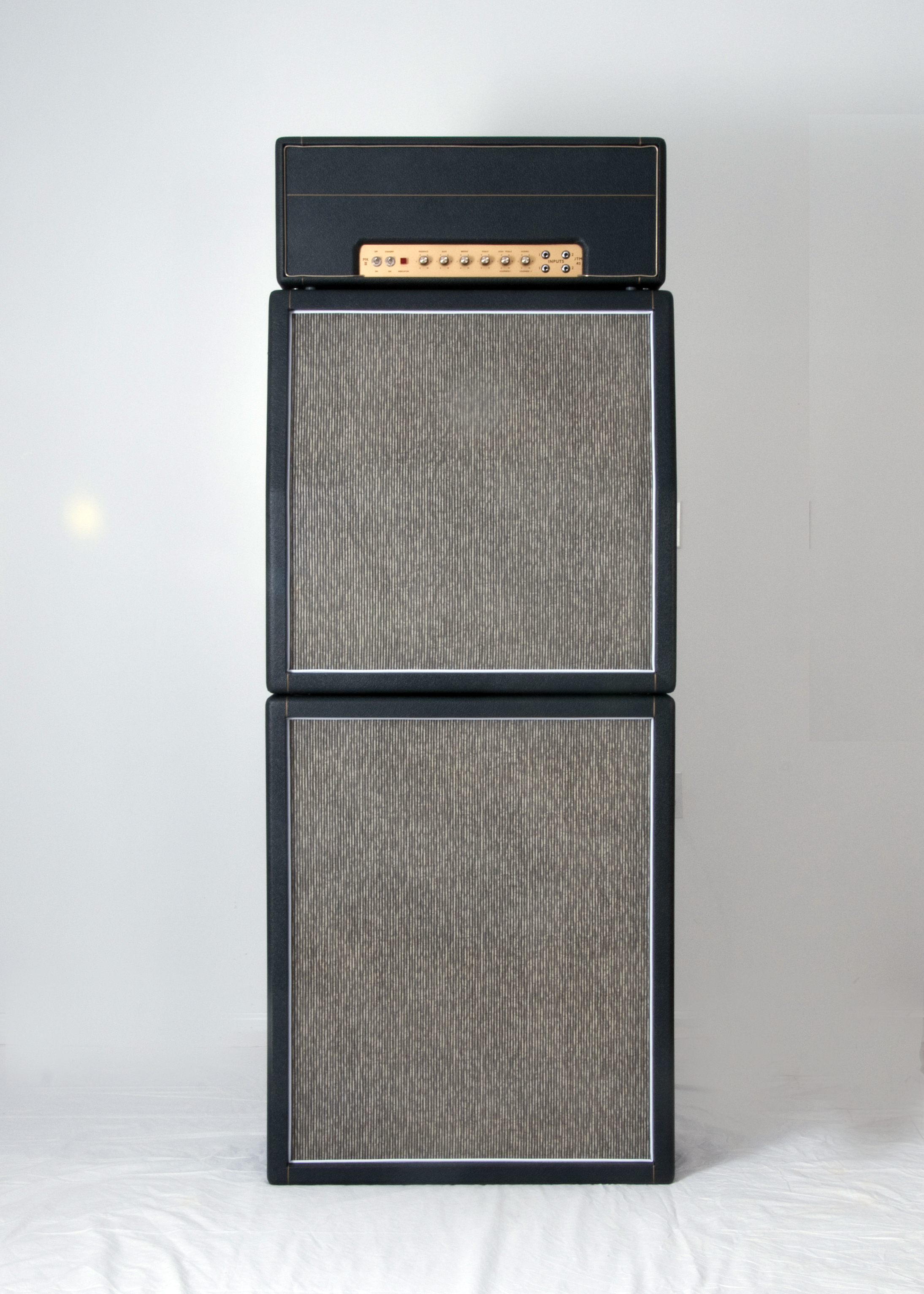 Authentic JTM45 gold plexi panel with proper font and layout. NOS gold Marshall-style knobs and exact replica brass vents: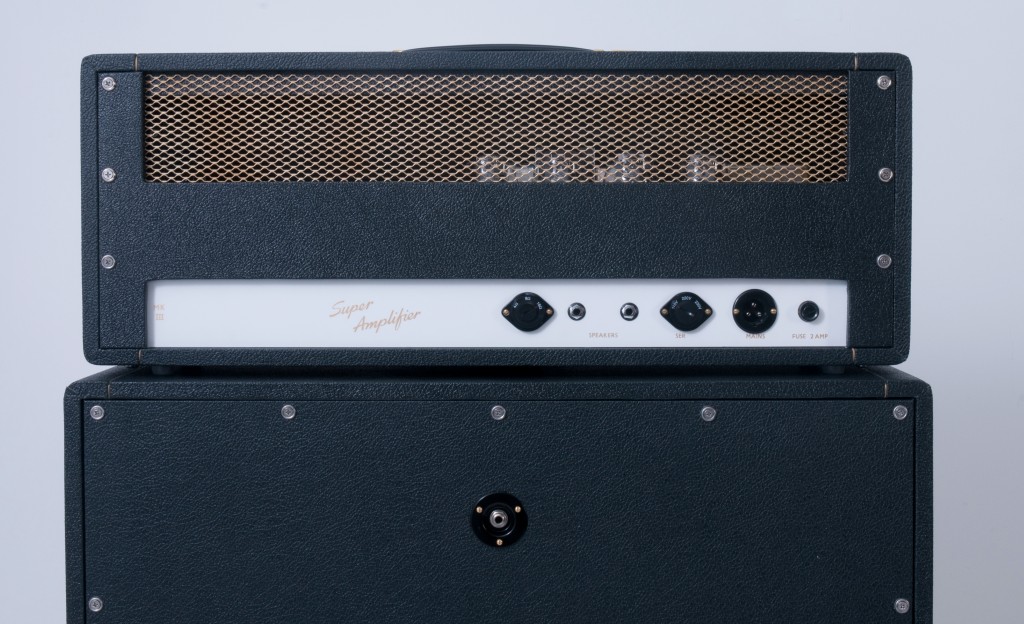 Authentic white polystyrene rear panel with proper gold script "Super Amplifier" & MK III font. NOS Bulgin power socket. NOS Radiospares dime-slot bakelite panel mount fuse holder: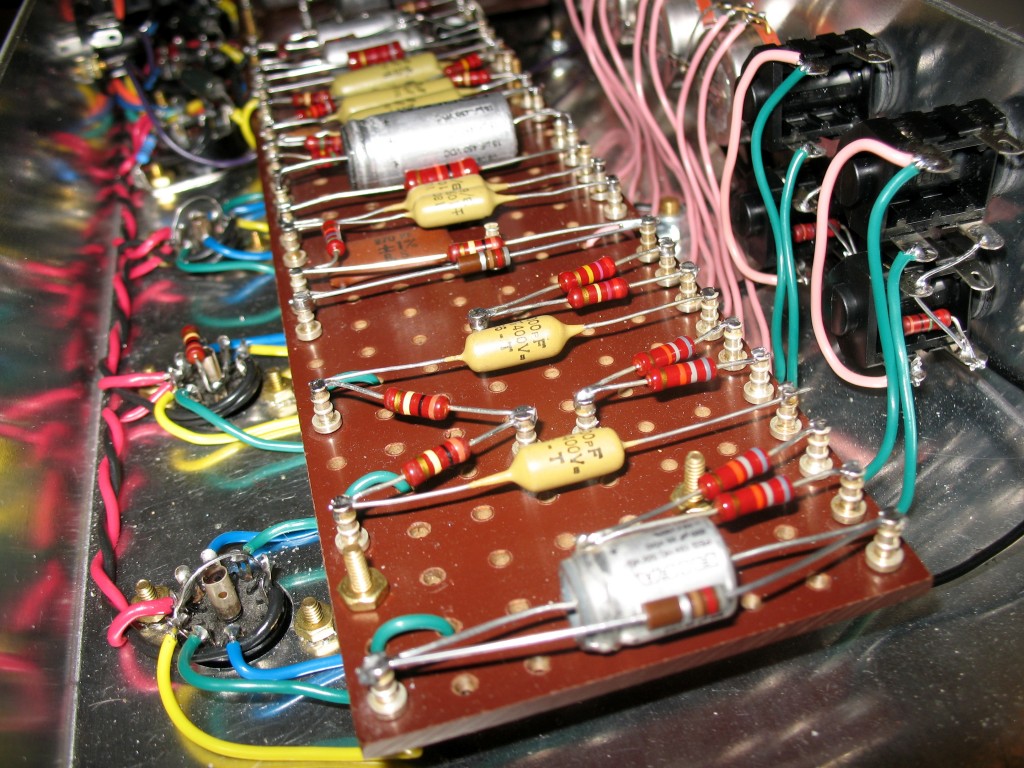 "When it comes to hardcore authenticity in vintage gear replicas, no one tops Chase Tone." – Premier Guitar Magazine May 2012
NOS 1960's original Radiospares carbon film and carbon composition resistors. NOS 1966 Mullard Mustard coupling capacitors. Original Marshall 1960's PVC stranded wire- green, blue, yellow, purple, white, black and red. Original Marshall 1960's PVC Pink stranded wire, as well as original thicker diameter 1960's Marshall pink wire for pot jumpers/input jacks, per original spec of this era amplifier. NOS rare arched-logo RS silver mica capacitor. NOS Radiospares silver mica tone stack capacitor. NOS custom made perforated Paxolin board from the U.K., with original Radiospares split turrets. PEC military-grade stainless steel body, steel shafts, and gold contact potentiometers.

NOS tube sockets. NOS BY137 bullet diodes. NOS BY114 Mullard top-hate diode for bias supply. High quality Rifa brand electrolytic capacitors. 1960's original Radiospares black wire wrap. Cliff UK jacks. New Marshall Impedance/Voltage selector for reliability. Custom transformers from Merren Audio: The most authentic sounding hand made Marshall Plexi transformers.

Sound Clips:
-Bright Channel Input-
Settings: Presence 2, Bass 0, Middle 8, Treble 5, Vol I 10, Vol II 0,
-Bright Channel Input-
Settings: Presence 0, Bass 0, Middle 8, Treble 4, Vol I 10, Vol II 0,
-Dark Channel Input-
Settings: Presence 8, Bass 10, Middle 10, Treble 10, Vol I 0, Vol II 10,
-Bright Channel Input-
Settings: Presence 4, Bass 4, Middle 8, Treble 4, Vol I 4, Vol II 0,

Sound Clip Description: JTM45/100 Replica
Tall 4×12 Pinstripe Cabinet Replica (30watt Speakers)
1968 Fender Stratocaster Replica w/reverse staggered pickups, reverse angled bridge pickup, and reverse neck. Stock 60's wiring. (Fire/Stone Free/Clean)
Gibson Firebird (Im So Glad)
Korg Digital Recorder- Slight reverb added for ambience.
 Contact Us for more details!