SOLD OUT!
---
Chase Tone Candy Apple Red Glazed Dallas Arbiter Germanium Fuzz Face

Individually custom built and perfectly tuned with more fuzz and harmonic complexity allowing notes to sustain and easily develop into feedback. A pure vintage organic fuzz tone. Check out the sound clips!
"When it comes to hardcore authenticity in vintage gear replicas, no one tops Chase Tone." – Premier Guitar Magazine May 2012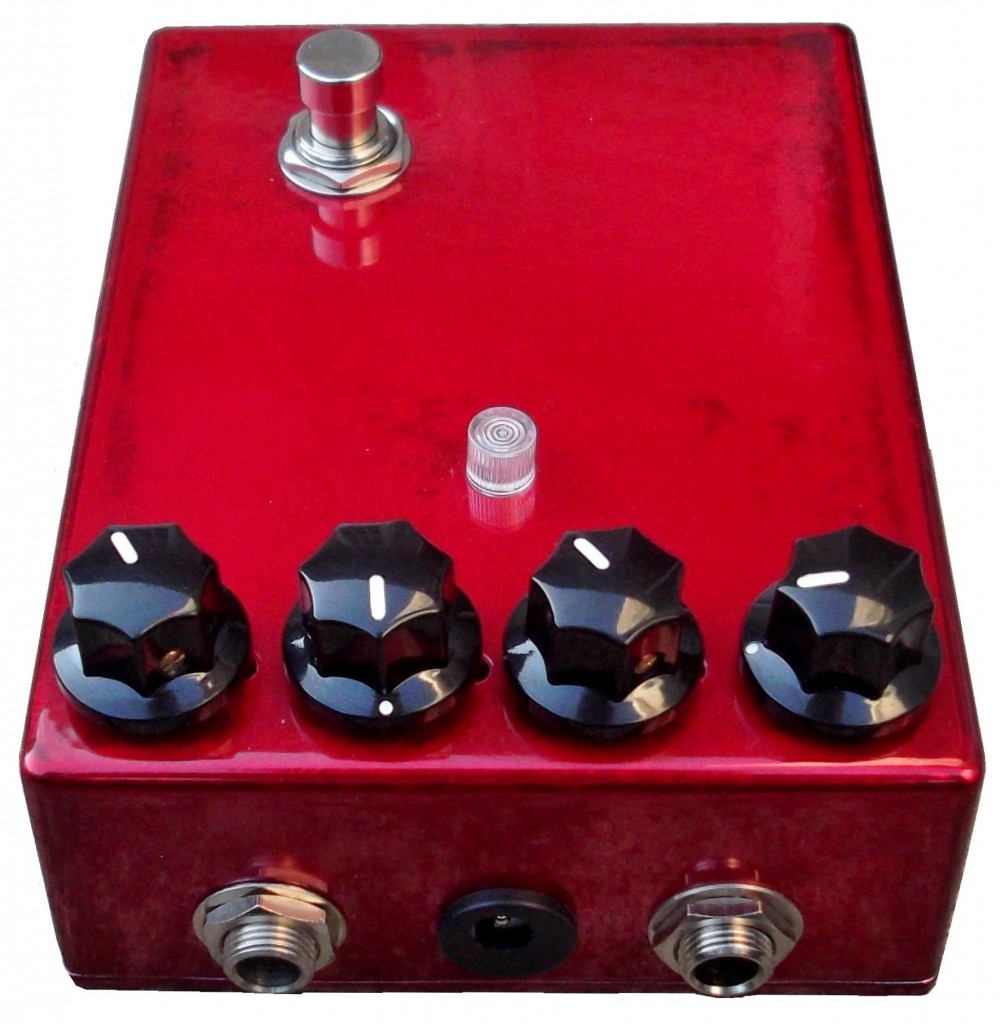 "Got the velvet fuzz and WOW!!!!!!!!!!! What a machine! Man, it's just awesome. You are truly talented man, thank you again. Fuzz is epic. – Nick Perri / Silvertide
Features include:
Output Control: Maximizing this control increases sustain, punch and treble bite. The sweet spot is adjusting it in comparison to your tube amplifier volume and EQ settings- An optimal setting is usually between 3/4s and maximum when turning in a clockwise direction.
Fuzz Control: Maximizing this control increases total amount of fuzz. Customized circuit offers improved range of control allowing less fuzz and more over-driven fluid tone for the majority of this control's travel.
Temper Control: Optimal adjustment is around half-way(noon) at 72 degrees Fahrenheit. Fine tune adjustment in either direction may be necessary to compensate for temperature fluctuations. A gated effect can be achieved when adjusting this control at its extreme settings. If the quality of the fuzz tone is not optimal, this is the knob that usually needs adjustment. Fine tune adjustment by ear is recommended.
Headroom: Maximizing this control in the clockwise direction removes it from the circuit. Adjusting in a counter-clockwise direction adjusts the headroom clipping of the input circuit, reduces bass frequencies allowing better compatibility with dark or humbucker equipped guitars, and helps eliminate oscillations when placed after a wah pedal.
Battery Drawer: Simply press inward and upward to disengage lock. No tools required!
* If using a power supply it must be a 9V Positive Ground supply. A standard negative ground power supply will not work! Protection circuitry prevents damage to the circuit briefly, if the wrong power supply remains plugged in to the device, damage may occur. !! Only use a 9V positive ground power supply !!
"Your Fuzz is awesome, it's something completely different compared to my other pedals. It's really so sensitive and responds so well to your playing and touch. I cannot say how thankful I am for your fuzz pedal. It really works fantastic. I couldn't stop playing it over and over. It creates crazy feedback if you turn the fuzz knob all the way up and bend a note very hard. I will play three shows next week, all with your pedal." -Julijan

"Stop searching. This is THE ULTIMATE FUZZ! Kyle is cool too. 5 Stars ☆☆☆☆☆"
Additional details:
* Candy Apple Red Glazed Durable Powder Coat Finish
* Designed with pedal boards in mind.
* High quality-low power consumption RED LED. Strong durable surround scatters and fragments the LED light to give 360 degree viewing angle.
* True-Bypass via a significantly higher quality 3PDT stomp switch than the boutique market standard.
* High quality Switchcraft jacks.
* Please note: The NOS brown paxolin circuit board option is sold out. These now ship with a different circuit board material.
*  Low Noise High Quality Shielded Wiring – More accurate and focused fuzz tone.
* New Old Stock 1960s Allen Bradley Carbon Resistors. Warm and smooth over-driven tone compared to modern carbon film resistors. Same resistors used on the Apollo Missions.
* NOS PNP Gold Lead Germanium transistors. The vintage germanium transistors used are individually hand selected and audited in the circuit for optimal tone, low noise and reliability.
* Vintage 1960s Mullard capacitor for that unmistakable thick smooth and complex tone not heard in modern polyester capacitors.
*Built with pride and care, and individually fine-tuned and tested one at a time in the USA.
"Top Shelf Builder! Has a Great Ear for Tone! If you Seek Tone, Find it Here! "
-Order Details-
$195.00 purchase price.
$9.50 USPS Priority Mail in USA w/ Insurance & Deliver Confirmation.
$28.00 International USPS Priority Mail & Insurance to Canada.
$40.00 International USPS Priority Mail w/ Tracking. (Insurance is dependent upon country. Otherwise may ship registered mail. See shipping information above for more details.)
☆Free Shipping for United States Veterans ☆
* 4-6 weeks wait time from date of payment.
———————————————————————————————————
Sound Clips:

Smokin' Fuzz n Feedback Illustrations
Sound Clip Description:
1957 Fender Tweed Champ Replica w/ Deluxe size speaker cabinet & 12″ Weber Alnico speaker
1968 Fender Stratocaster Replica w/reverse staggered pickups, reverse angled bridge pickup, and reverse neck. Tone control modification to bridge single coil pickup.
Clean amp tone & then Fuzz pedal engaged at 12 seconds.
Korg Digital Recorder- Reverb added for ambience.
———————————————————————————————————


Drivin' South!
Sound Clip Description:
*Smooth spread of rich harmonic textures of clean, overdrive and "rubber band quality"
fuzz tones by manipulating guitar volume between 3 and 10, and stands out in the mix
while never being too bright.
Ceriatone JTM45 (replacement transformers & custom attenuator)
Volume I (8)
Volume II (6)
1997 Fender Jimi Hendrix Tribute Stratocaster.
Dunlop Crybaby Wah.
Custom fine tuned Chase Tone Germanium Fuzz Face Replica.
Electro-harmonix Holy Grail Reverb added for ambience.
Credits: Customer sound clip at band rehearsal.
Contact Us for more details!