This pedal has been brought back by high demand with a NEW look! Please check it out! Same exact circuit. Same exact sound.
---
SOLD OUT!
CHASE TONE™
'68 Red Velvet FUZZ™
30 Day Satisfaction Guarantee in

U.

S.

A.

Absolutely Guaranteed.




Hi Kyle! I am LOVING the pedals! [SP™ & '68 RVF™] Thank you so much. Bless you, sir.

– Charlie Starr of BLACKBERRY SMOKE

Hi Kyle I love the '68 RVF™ pedal …. I used it in front of 35,000 plus people last night at a festival in Michigan and it sounded fabulous!

– Owen Barry
Dan & Mick from have lots of lasting

FUN

playing the '68 RVF™ through 4 different guitars!
♪ Stratocaster ♪ (melodic, tasteful Hendrix-esque)
"Hear the wrap wire on the strings!?"



♫  ES335 ♫ (honky, syrupy fat midrange)
"Wow!!!!! MAN!!!!!"
♫  Les Paul  ♫ (Rock n Roll FUZZ tones)!
"That is….. killer!"



Lastly, check out the ♪ 29:37 ♪ mark with all pedals ON. The '68 RVF™ takes it into another Fuzz Galaxy! Lots of FUZZ TONE!
---
Have a question or would like to be notified of sales and new releases? Please use the contact form below including your name and country and we'll get back to you shortly!
---
CHASE TONE™
'68 Red Velvet FUZZ™
'Sweet, Creamy, Singing, Multi-Layered 60's Fuzz Tone!'
♫ CHECKOUT THE '68 Red Velvet FUZZ™ DEMO! ♫
Matt Cummings. Fender Stratocaster. Fender Brown Face Amp.
Hi Kyle. I am very impressed with it. It cleans up very well when rolling back my guitar volume. I prefer germanium fuzzes usually, but the '68 Red Velvet Fuzz is the first silicone fuzz face circuit that has impressed me. I found an ideal setting almost immediately. While I am waiting for your Hi Octave Fuzz to be available once again, I am making do with a Believe by Lovepedal and the '68 Red Velvet Fuzz works very well with it. My main observation of silicone fuzz face circuits is that they are very dependent on amplifier output volume to maintain their brightness. I have concluded that I will be selling my other silicone fuzz now, and will no longer be tempted to order any others, so I thank you for helping me find the sound I had been searching for. Also your fuzz is very quiet in regards to extraneous noise. It responds very well to the late 60's voiced pickups in my Strat, which means I am well pleased. That Strat and your fuzz take me straight to Axis Bold As Love/Electric Ladyland sonic scapes so I could not be happier. It also compliments my Vibe Machine II in a very musical way. I am also very pleased with the SECRET PREAMP™. I use as recommended at the end of my signal chain. Primarily I use it to slightly sweeten/fatten my tone with the level set just slightly above unity gain with the bright setting. It is terrific with the Boonar, Supatrem, and the Vibe Machine. It also adds a wonderful texture to my Treble Booster and Tone Bender boxes. Like I said before I love fuzzes. They impart a texture I love especially with British voiced amps. The SECRET PREAMP™ is performing a wonderful function of restoring my signal integrity. In conclusion, both the '68 Red Velvet Fuzz and The Secret Preamp will be staying on my pedalboard. There will always be room there for more of your designs(Scripture Wah and HiOctave Fuzz). Thanks for everything. All the best, Dave.
Hi Kyle, Thought I would drop in and give you my thoughts about the '68 RVF. It's mega! Absolutely it's own animal compared to my other favorite fuzz faces. It really sings and as advertised the harmonics are amazing. The mid control is so unique to this fuzz because the character of the fuzz is not lost with the MID booster as other fuzz face pedals I've played with that option. The clean is exactly how I like it as it gradually cleans up and not just suddenly [shades of clean, overdrive, exploding fuzz]. Awesome job. I plan to stay a true supporter of you work. -Joe
Hi Kyle, I have already given you my thoughts on the '68 RVF after about a week of playing on it. I knew my < name removed> was going to be hard to beat for silicon and it's been my main go to fuzz. The '68 RVF™ seems to get better every time I play it. At my gig over the weekend a ton of people were asking me about it. Just by them looking at it and the hearing it. It rips and the position I keep the FEEL and MID knob at just makes it feel and sound awesome and exactly how I want it to sound.  I was playing it through my Jackson Ampworks El Guapo and it's a beauty sound. I have three Fuzz Face pedals on my board currently including the '68 RVF™, but this will be taking the < name removed> spot. The '68 RVF™ has that magic under the fingers that my NKT-275 had that just blooms and is so musical. I know it's different strokes for different folks, but it really slays a lot of others. I still love all the fuzz faces I've kept and won't sell them. But by itself and definitely in the mix, the '68 RVF™ has the 100% advantage and has all useful options done smart and the right way. I'm waiting, excited ready to pull the trigger on whatever else you release. – Joseph
What sets the CHASE TONE™ '68 Red Velvet FUZZ™ apart from the rest is its amazing feel and thick even order harmonic complexity. There's no need to crank the amplifier or layer an overdrive or another fuzz but you can if you want to for more saturation and feedback. This may be the most harmonically complex and sweet feeling 60s Fuzz you'll EVER play; sounding like you always thought a Fuzz Face should. This is really a hybrid (and more) of the best we've had to offer. Everything can be worked via the guitar volume knob: Pristine Cleans, Thick Sustaining Overdrive, All-Out Exploding Fuzz.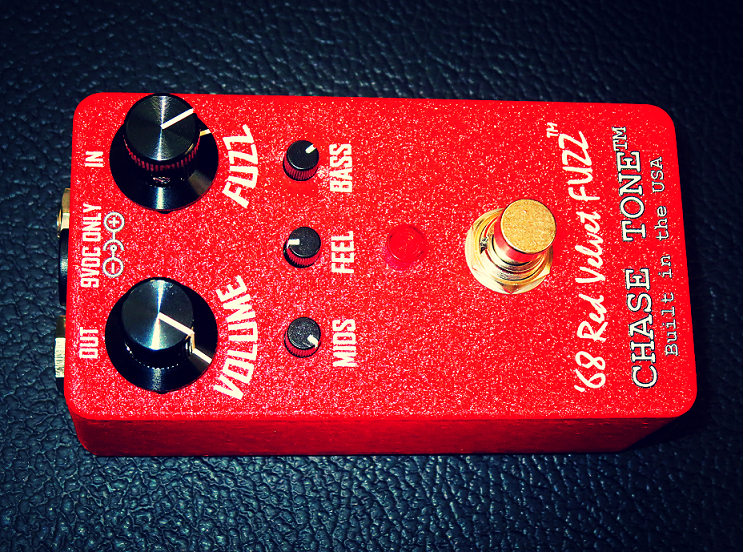 Holy this thing is a monster – Everett (using on tour)
The
CHASE TONE™

'68 Red Velvet FUZZ™

is a limited-edition, pedal-board-friendly version of our prized SOLD OUT CHASE TONE™ 1968 Dallas Arbiter BC183 Red Fuzz Face Replica that had it's own authentic explosive fuzz tone like a wall of Marshalls. The durable powder-coat finish actually feels like VELVET and the fonts are accurately replicated from an original prized 1968 Dallas Arbiter Red Fuzz Face. SWEET!
Kyle, my man First of all, you're a legend. Second, thank you. Third, the '68 Red Velvet might be the greatest Fuzz pedal ever made. I have an [name removed] from the mid-2000's with NKT275 Germanium "white dot" transistors. Great tone! Just lost in the mix. The new "Chase Tone '68 Red Velvet Fuzz" showed up, and I've been playing both pedals back-and-forth all day – not only does the '68 nail the tone of the NKT275 white dot, but it enables me to cut through. Not only that, but I get that "blown up" sound, Epic. It's not that I love my [name removed] any less, it's just that I love the '68 more! I'm happy to report I installed the '68 on my #1 gig board a few moments ago and I'm attaching a photo. [pedal name removed] off! The '68 Red Velvet has output for days and can literally nail any fuzz tone I've ever dreamed of. It's musical, dynamic, explosive, and the best part. it cleans up insanely well with the volume knob just like an old Germanium. I don't know how you did it, by all accounts it should be physically impossible, but you did it – it's freakin' awesome! [Players] won't know whether this is a Germanium or Silicon! Kind of has the best of both worlds. Have a great weekend. Now that I have this pedal, I know I will  -Nick

External mini-trim knobs allow the player to EQ fine-tune to their rig at home, in the studio, or on the road with a live band. Player preferred custom tweaks from our prized

Red Stardust™ Germanium Fuzz

and our

Silver Stardust™ BC183/2L Silicon Fuzz,

but this is something all new and an instant player favorite the world over. We cannot keep these in stock. All at an affordable price for players worldwide.
Hey Kyle hope you're doing well. I've had the '68 Red Velvet FUZZ™ for a little while now and I've got to say it is my new favorite CHASE TONE™ fuzz! I have collected all your stardust range (and the roadster fuzz) over the last few years and they're all incredible but the 68 Red Velvet FUZZ™ can capture the best parts of all of them in one box and at an amazing price point [$129.98]. In my opinion this is the best fuzz you have released so far. Thanks again Brad  (U.K.)
Hey Kyle. Hope you are well. You've done it!! I never thought I'd ever find a Fuzz that could come close to the sensitivity and musicality of your Candy Apple Red Germanium Fuzz, but that '68 Red Velvet FUZZ™ is hands down the best Fuzz I've ever played!! It sounds phenomenal mate, great job!! I had them all out over the last few days and here's my thoughts….. The CAR is now my Sunday driver. I'll bring it out, play it loud and really enjoy that Germanium sweetness when I want to just noodle around enjoy playing. The Roadster Fuzz is extremely versatile and can be tuned in and dialed up to work perfectly on my big board to react well with the other drive and modulation pedals as well as the buffer. But that '68 Red Velvet FUZZ™ is just pure, thick, vintage filth. I love it!! I'm going to put it on a second small board with the Signature Wah, an Octavia pedal, a Vibe and maybe a delay…. done!! Brad (Australia) PS: I'll be buying a second one.
"There's more MIDRANGE, OUTPUT, GAIN, SUSTAIN, HARMONICALLY COMPLEX FUZZ and PLAY-ABILITY than any fuzz we've ever produced. This fuzz captures that elusive feel that's missing in other modern examples and is only found in a select few prized vintage units, but they never cut through the mix, aren't pedal board friendly, and cost thousands… if you can find one."
Controls:
VOLUME: Maximizing this control increases sustain, punch and treble bite. The sweet spot (1 o'clock through 4 o'clock) is adjusting it in comparison to your tube amplifier volume and EQ settings- An optimal setting is usually between Noon and maximum when turning in a clockwise direction.
Greetings. I received the '68 Red Velvet Fuzz a couple of days ago and I am totally blown away.  It is exactly, and I mean exactly, as your description states.  The interaction between the guitar volume knob and the RVF is incredible in itself.  The sustain and harmonics (not to mention the fuzz tone ) are really mind blowing.  Note definition is superb and to be honest, I have yet to find a setting that is not usable. I am running a Strat and Firebird into a Germino Masonette, and yes indeed, it does make the amp sound like "a million watts".  Amazing.  I also have the Roadster Fuzz, which I love, but this is a totally different animal.  Both are really good fuzz pedals and I have no problem with both of these on my board as they each offer their own unique tones.  The 68 RVF is truly a remarkable pedal.  I would have expected to pay much more for a quality build like this.  You are knocking them out of the park! Thanks for all you are doing! Dave PS — loving the SECRET PREAMP™.  Always on. 
FUZZ: Maximizing this control increases total amount of fuzz. Customized circuit offers improved range of control allowing less fuzz and more over-driven fluid tone for the majority (nearly 80%) of this control's travel. [You can't get a vintage DAFF to do this.]
Hi Kyle, I would like to give you some feedback on my recent purchases, namely the SECRET PREAMP™ and the 68 Red Velvet FUZZ™. Both pedals are awesome. I own an old EP-3 and the SECRET PREAMP™ is the first pedal that comes very close to the original, both in tone and feel. I really like the mode switch. It is such a handy feature. Switching between different amps is no longer a problem. The preamp of my old EP-3 is more on the dark side and this causes some issues. I also like how the volume knob reacts and that the amount of boost can be adjusted without changing the overall feel. Fantastic! The 68 Red Velvet Fuzz hands down is the best FF-type pedal I have ever played (and there were many). I almost gave up on FF-type fuzzes because most often they are kind of difficult to adjust, especially in a band context … I guess you know what I mean. I switched to Tonebender Fuzzes which now are my absolute favorites. The 68 Red Velvet Fuzz, however, brought back my love for Fuzz Faces. It has that characteristic sound when full on and all the tonal texture one hopes for when rolling back the guitar volume. Most important though, it works in a band context. The bass-, mid- and feel-knobs are ace and so easy to use. Again, fantastic! Kyle, you are just brilliant! Cheers from Switzerland Peter
MIDS: Clockwise Boosts MIDS & OUTPUT to actually be heard in a band mix. [You can't get a vintage DAFF to do this.]
Hey Kyle, I hope you are well!  It's been over a month with the Red Velvet and it's become my go-to pedal. I use it more than any other fuzz or any drive pedal for that matter. It just sounds awesome; the feel is great and it's so versatile. As I'm reading about their anticipation I smiled to myself because I've been lucky enough to enjoy it for the last five weeks. Thanks again for sending me out one early on, I really appreciate it. Take care, Kurt
FEEL: Updated Bias knob done our way. Every setting is musical and changes the feel and texture- counter-clockwise saturated starved voltage and dying battery feel through punchy round tube-like fuzz and everything in between. [You can't get a vintage DAFF to do this.]
Hey brother, just got the Red Velvet fuzz and I am loving this pedal, Kyle!! Unbelievable control and feel! Y'all knocked it outta the ballpark, brother!!!! Update: I'm blown away how this RVF cleans up and those tones are just so sweet! -John
BASS: Maximizing this control in the clockwise direction removes it from the circuit. Adjusting in a counter-clockwise direction adjusts the headroom clipping of the input circuit, reduces bass frequencies allowing better compatibility with dark or humbucker equipped guitars, and helps eliminate oscillations when placed after a wah pedal. [You can't get a vintage DAFF to do this.]
Hi Kyle!  My '68 Red Velvet Fuzz is killer!!! I've been having a lot of fun with it and NEVER see myself parting with it. Thanks, Matt
Hello, I just wanted to drop a line to tell you I received my '68 Red Velvet FUZZ™ today and it's an amazing piece. Love the creamy tone, instant riff machine. Thanks again for an amazing and affordable piece of gear like this one. Best regards, Axel.
Man – just got through giving it a good test. Wow! Love it. Really quiet for the amount of gain it can muster. Stacks great with my other drives (Octron, Honey Bee, and Rockett Melody) and sounds great with singles and humbuckers. Look forward to playing out with it at gig volume.  Really dig the interaction of the MIDS and FEEL controls. Great range of textures. Well done!! -Jeff
Hi Kyle I have recently purchased a '68 Red Velvet FUZZ™ from you & love it. Love your pedals by the way Kyle I also purchased the SECRET PREAMP™ from you & it never leaves my board & is always on. Best regards & big fan of your work -Mark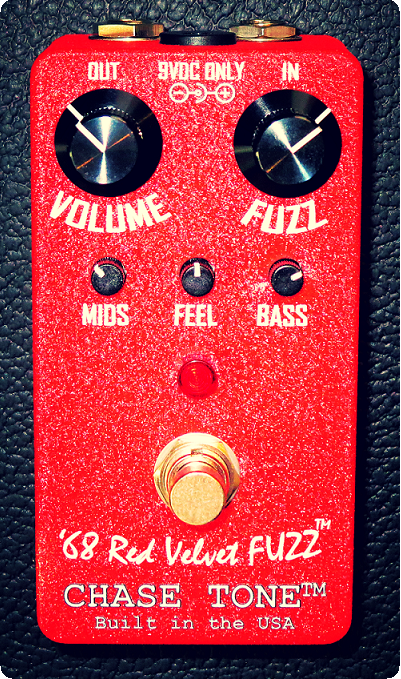 Yes! What I like most is what happens when I use my vol control- nice clean up! If I can ever get a sound check w/o issues to sort out, I'll make a video. Nice job on this one Kyle, I predict the '68 RVF will be very popular. What a difference. JB
Features Include: Premium Quality
Professional Low-Noise PCB DESIGN: FULL PCB GROUND PLANE provides enhanced noise reduction and rejection.
Hello Kyle, First impression is excellent!  I always thought that fuzz faces are THE most mojo-ish pedals around, but due to my setup (low-ish output pickups into clean blackface Fender amps) I never managed to milk their magic. The '68 RVF™ is clearly the most usable FF I've tried so far and I've tried most of the heavy names (<name removed 1>, <name removed 2> , <name removed 3>, <name removed 4>, <name removed 5> etc). Very adaptable pedal, that can be set to anyone's taste. Well done! Thanks for your time, contact and of course the excellent fuzz! Best, Ilias
Stable Performance On-the-Road- Temperature independent for consistent performance.
Standard 9VDC Polarity Power- Center Negative (Standard) or 9Volt Battery.
Kyle I just received my '68 Red Velvet FUZZ™ fuzz today, after playing it for 5 min I know I had to have another one for my 2nd board, I'm all in! this is a killer fuzz! You knocked it out of the park with the '68 Red Velvet FUZZ™ very smooth!  Best sounding fuzz I've ever played!  Thanks! John
 Kyle, I wanted to give you my thoughts on the '68 RVF™ pedal. It's extremely cool sounding and looking. It's obviously good on the heavier settings, but I especially love how well it cleans up. On the less extreme settings, it does a very good imitation of a warm, organic sounding overdrive. It does a great job of goosing a slightly overdriven amp, or amp-in-a-box type pedal, but also with clean amp settings, of course. I'm happy with it, thanks a lot for the very reasonable price and military discount. Keep on rockin'! Mark
Wow! This thing's great! Really digging it. The right feel and saturation, no [overly full], overly dense lows, harmonics complexity everywhere. – Evan
Components Include: Vintage-Spec, New Production
Cherry picked to cream-of-the-crop specs BC183C Silicon Transistors- Only hand picked transistors are used. Check out our preferred transistor analyzer below! [These are stock Google images. But it's the unit we use.]

Hi Kyle- Man, the RVF is so awesome I could order a 2nd already just to have in case anything ever happened to this one. Color me impressed! Very thick, but never too loose on the low end, and all the high end clarity is retained. Love the extremes of all the knobs, and everything in between. I couldn't detect an ounce of hiss or anything with the pedal activated. That's always one of my pet peeves, when a pedal introduces hiss to the signal chain. The note decay on the fuzz sounds so natural while sustaining, and really emulates playing through a cranked amp. I just love the way the MIDS knob interacts with the FUZZ knob in finding the right amount of gain/fuzz mixed with the right amount of sustain. Everything about it just screams classic rock and roll! It's been a while since I've been that inspired by a new pedal. Thanks Kyle, and congratulations on another outstanding pedal creation! -Steve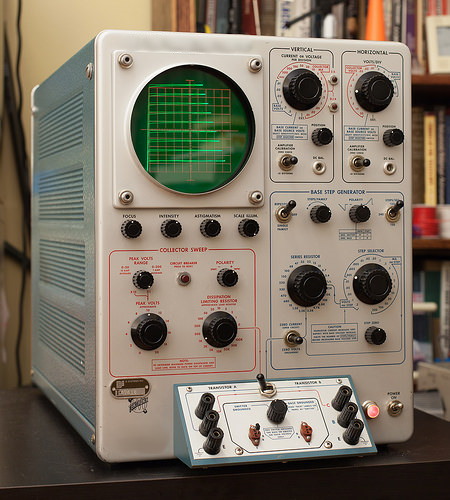 Dear Kyle, I hope everything is more than fine with you. Finally, your '68 Velvet Fuzz has arrived in Helsinki, and it's been taking its place in my pedalboard. I still could not test it at higher volumes, in a rehearsing room, I could only play it at home, at bedroom volumes. However, these are my first impressions: first of all, your pedal has a SOUL. It gives a very wide variety of fuzz colours, thanks to the tweak ability and inter-activeness of Mids, Feel and Bass knobs. It can sound mild like a low gain overdrive, it can growl with a lot of gain and sustain. It responds amazingly to how I play, and it's unbelievably sensitive to the guitar volume knob, being always able to deliver a creamy, rich tone even at ridiculously low volume levels. It keeps every note defined, at any level of gain. It does all these things wonderfully, and you already know all of them, of course, since you created the pedal, but again, the most important thing: this pedal has a SOUL. It's more than metal, circuits and transistors.  It's a living thing that can resonate with the soul of a careful player. Thank you for your soulful work, Kyle. Ah, of course my children were very happy to see and listen to the pedal in real, after drawing it! By warmest regards from the Finnish autumn! Giorgio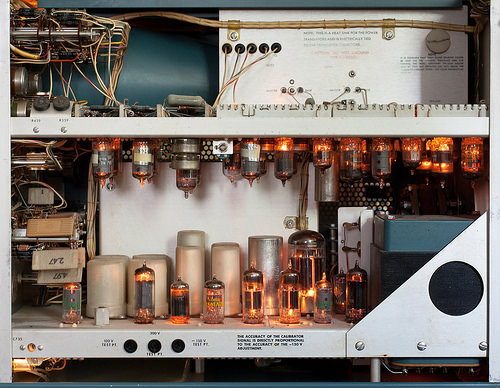 Vintage-Spec, New Production, Low Noise Carbon Film Resistors in 50+ year Aged 'fine-tuned' values.
Thanks heaps for the '68 Red Velvet FUZZ™!! It got delivered this morning and so I plugged it in and gave it a rip between my SG and Marshall combo amp. Lovely! Very nice tonal qualities and great to have the MIDS, FEEL and BASS knobs to experiment with too. Great on chords and lead lines. A great present, thanks again. Nice and compact sized pedal too. – CHASE TONE™ customer's gift to musician in New Zealand
Hi Kyle, the '68 RVF™ has gain to spare. The MIDS boost control is nice to really give some upfront & added vocal-esque quality to the tone without it sounding like a cocked wah – & that also has some range to spare. The BASS cut control is fantastic for providing some clarity & definition. The controls are very (nicely) interactive. Cutting the BASS lowers the fuzz's gain for example. Mega-musical tone tools & I was able to dial in the tones that I heard in my head & easily slide through a rich spectrum of them via the guitar's volume & tone controls & pickup selected. Many thanks & best wishes – Troy
Vintage-Spec, New Production, High Quality BC Axial Electrolytic Capacitors
Got it today. WELL worth the wait. This is THE first Fuzz I have ever played through, and I've been through a ton in my 30 years of playing, in search for that elusive "Hendrix" Fuzz Face tone that so many builders "claim" to have, and which ALL fell short of, that the first note I played was an instant WOW!!! Man, you NAILED it. Hendrix in spades. And not only that, FAR more versatile. Wow, what a gem!!! The entire thing is AWESOME, the feel, the color, the finish, the texture, the sheen, the color, the knobs, the font, the LED, you name it. And I don't think it's possible to find a bad setting on this jewel! No joke. I applaud you.  Endless thanks, Tony 
Vintage Mullard Tropical Fish Capacitor
Kyle, Wow! Just got the Red Velvet in the mail. Holy, man! Magnificent pedal, thanks so much for the great deal and killer tones! -Dave
Hardware Includes: Hand-wired Jacks and Switches for Ultra Reliability On-The-Road
Retro Cherry Red Impact Resistant LED BEZEL with Wide Viewing Angle.
Hi Kyle, I got my '68RVF a little while back and it's not left my board since (it displaced my other fuzz face type instantly) as it sounds soooo good with that perfect spluttering fuzz sound when cranked up and I especially love the feel control – the Bass control makes a huge difference in the overall sound and also the touch response too – a job well done sir! – Jason
'Sweet Red Velvet™ Powder Coat Finish (Zero Ozone Emissions and Ultra-Durable) with Vintage-Accurate Dallas Arbiter Fuzz Face DURABLE PRINT.
Hi Kyle, first off let me say that the '68 Red Velvet Fuzz™ I bought from you recently is awesome. I have a collection of fuzz's, & bender's new and vintage from <name removed 1>, <name removed 2>, <name removed 3>, <name removed 4>, <name removed 5> Arbiter Fuzz Face's and others. This '68 of yours sounds great and is hugely consistent & repeatable for studio/stage Plus the tone circuit is perfect. Well done! Thx, Dennis
High quality 1970s style aluminum enclosure:4" Long x 2.4" Wide x 1.5" High. Fits in the palm of your hand.
Hey Kyle, I'd love to take a SECRET PREAMP™ out on this upcoming tour I'm doing.  The Red Velvet has made a home in my rig.  Pretty soon it's gonna be a Chase Tone rig.  Hope all is well with you bro. -Everett Gray
REAR MOUNT JACKS = FIT ON VIRTUALLY ANY PEDAL BOARD! High Quality Switchcraft Jacks Handwired for Ultimate On-The-Road. (JACKS ARE NICKEL-PLATED)

High Quality, EPOXY Reinforced 3PDT wired for TRUE BYPASS (SWITCH IS NICKEL-PLATED)
Ciao Kyle! I would like to buy a second '68 for my smaller pedalboard, this fuzz is the best I've played, one is not enough 🙂 Ciao e grazie from Rome. -Giorgio
Black Metal Replica TOP HAT KNOBS!
Hey Kyle, Fuzz is very nice. On my board replacing previous favorite fuzz. Thanks! Paul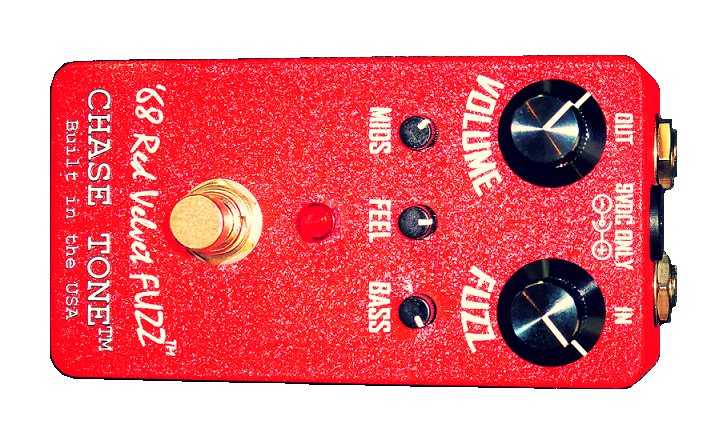 ~ Power Coat actually feels like Sweet Red Velvet! ~

Hi Kyle, I love this fuzz. LOVE IT! I just placed an order for two more. – David
Hi Kyle, The '68 Red Velvet Fuzz is the most accomplished fuzz (fuzz face) in the world, the most successful! When I play it, it's like starting a V8 American engine such as an Oldsmobile cutlass 442 or a Dodge Challenger (from 1968 obviously). The intermediate position with a Tele or LP is now transcended with those incredible rich harmonics that give a fantastic erratic growl! Whatever the guitar or amp, the '68 Red Velvet Fuzz explode all… Man… you killed me ! You are the Dr Kyle and Mr Chase of the sound! You're a mad passionate and I really like it! I suppose you're wondering if I still prefer the CAR [NOS Candy Apple Red Germanium] or maybe how I compare them…and I know you guess the answer. The CAR [NOS Candy Apple Red Germanium] is your first success and it was the best reproduction ever made…but now…things have changed with the '68 RVF! This box wins all! Sincerely Vassili
Our Philosophy: "Inspired by Tone™
"We take a passionate approach in deciphering iconic, elusive tones– the same elusive tones that inspire you. We design our professional-grade products to inspire you on whatever musical quest you seek — house rocker, local clubs, studios, large theaters and world concert stages. So, step on your CHASE TONE™ equipped pedals and live your musically creative life to the fullest. Professional-grade products, built out of passion, that truly inspire- now that's something worth playing."– Kyle Chase
Easy Order Details: PayPal Or Credit Card Secure Checkout Options



New Player Pricing! 129.98 + state tax

USA: $10 USPS Priority Mail with Tracking. 3-5 Business Days for Delivery from Shipment Date. (Actual shipping costs.)
Canada/Europe/Asia/UK/Australia: $25 USPS First Class Mail with Tracking. 7-14 Business Days for Delivery from Shipment Date. Customs may add additional wait times. (Actual shipping costs.)
30 Day Satisfaction Guarantee for USA Buyers. Absolutely Guaranteed.
☆ 5% purchase price discount for United States Veterans with FREE USA SHIPPING! ☆ (Please Contact Us!)
This item is SOLD OUT!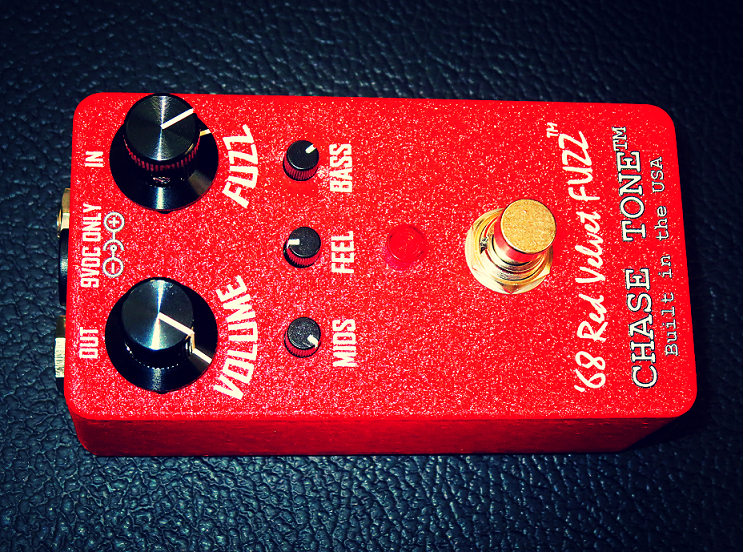 Don't Miss Out!
"Hi Kyle, I'd like to cancel my order of the red velvet fuzz if I may? I've got my fuzz bases covered and no longer have a need for another fuzz.  Can I cancel the order? Thanks, David." [CT™ REPLY] Hi David, Thanks for your message. Yes. We can cancel your order. Just update us to confirm. We can also guarantee a full refund if the '68 Red Velvet FUZZ™ does not exceed your expectations. Thanks, Kyle. [End CT™ REPLY] "Well if I can essentially try it risk free, I guess I'll hang in there on the list. -David."

PLAYER UPDATE: "Hi Kyle, I got a chance to play the '68 Red Velvet Fuzz this evening alongside some of my [name removed 1], [name removed 2], [name removed 3], and [name removed 4] Germanium fuzzes as well as a [name removed 5] and a [name removed 6].  I'd say 99% of the tonal character and responsiveness of the Germaniums is there with the '68 Red Velvet Fuzz.  Along with the added tonal flexibility its easily the absolute best Silicon Fuzz Face I've ever heard or played and at the current asking price [$129.98!], it's a no-brainer.  I liked the '68 more than the [name removed] or the [name removed] which both sell for $300-450 if you can find one. I'll keep the '68 because in a band setting, no one could tell the difference between the Red Velvet Fuzz and a $1000 boutique germanium fuzz face.  Great Job with this one Kyle." Thanks, David
Hi Kyle, I thought you might be interested in this short review. Mine made it all the way to Australia! Great packing and presentation Kyle. Like having a paper instruction sheet to read straight out of the box. Communication was fabulous all through this process too from order to shipping. Playing into a Supro Coronado just ticking over which is one of my favorite clean sounds my first impression is very favorable. I love being able to dial the bass right out and I really love that you can get great boost/OD tones with the really usable range of the gain/fuzz knob. I started with the bias all the way clockwise (least fuzzy), fuzz barely on and the volume dimed and had great light-medium breakup tones using the bridge PU of my 62RI Strat with Fender vintage style Pups (whatever they put in it in the factory in 89). Gradually cracking the gain yielded corresponding heavier tones and the tone & bias controls are useful at all levels. Others have said it, but you can't get a bad sound from this thing at any setting. The string separation stays excellent at all gain ranges and the BC183's give a crisp, cutting silicon fuzz that for me was never too biting or thin. The neck PU of the Strat gives a classic FF tone that isn't too wooly and is rich with overtones. It was said earlier that this thing is fantastic for power chords. It has exquisite sag and the bottom end is incredibly tight. I found myself comping for ages. That feeling when your right hand can do no wrong and notes are blooming perfectly. All from a clean amp, very cool. I tried it against some of my favorite OD's and this had them all covered for a cracking rock power chord tone. Playing with my Tele that has hotter, custom wound Martin Smith Pups and a treble bleed allowed me to wind the volume on the guitar right down and get a great cleaner than clean tone playing jingle jangle power pop chords and riffs. Early days but I can see myself using this as my main OD as it sounds fantastic and is super versatile. Very happy. Kyle, I forgot to mention what great value this pedal represents in comparison to what some boutique builders charge for fuzz pedals. I had a friend around tonight who is a splendid player and a fuzz nut, and he was absolutely blown away by the '68 Red Velvet FUZZ™ and particularly when I told him the price. He was going to go home and order one. I've also spread it around to my Facebook and Instagram circle as I believe your products and service deserve all the success they can get. I have no doubt what you say about the builder being more critical than the parts. The '68 Red Velvet FUZZ™ is a masterpiece. I honestly believe I'll be able to use it as my only OD. I forgot to mention too, it sounds spectacular going into the SECRET PREAMP™. I have the SP™ at the last position on my board and it makes all my pedals sound better, even modulation. Thanks again for your work. Rob
Have a question or would like to be notified of sales and new releases? Please use the contact form below including your name and country and we'll get back to you shortly!