Sold Out!
The Purple Stardust™ Hi-Octave in Flying Wedge Enclosure was a Limited Production Item in the 2010s. Please see the new reissue of this favorite effect:
https://chasetone.com/purple-stardust-hi-octave-reissue/
CHECK OUT THE INCREDIBLE SOUND CLIP FROM Matt Cummings!



 ~ Chase Tone™ Purple Stardust™ Hi-Octave-Fuzz ~
"For those who desire a fluid & harmonically complex late 1960's style Hi-Octave Fuzz Effect. . .

. . .with increased note tracking, warmth and sustain that cuts through a band mix with authority, while remaining smooth and articulate with touch sensitivity and dynamics responding to the player's unique touch. "

Purple Stardust™ Controls:
Output: Maximizing this control increases output, sustain, punch, clarity and treble EQ. The sweet spot is adjusting in comparison to the Intensity Control. An optimal Output setting is usually between 3/4s and maximum.
Intensity: Special circuit tunings allows a full range of fluid, over-driven Hi-Octave Fuzz tones. Lower counter-clockwise settings allow cleaner, warmer Octave sounds. Higher clockwise settings gradually increase saturation and treble EQ.
Useful Tone Tips:
1. The Purple Stardust™ is primarily useful on a Neck Pickup for the Purist Octave Effect. The Guitar's Tone Control may be utilized for darker, smoother tones.
2. Due to the unique, harmonic doubling mirror circuitry, a player's dynamic touch and note choice plays a crucial role in the resulting octave sound. Some note combinations may introduce lower octave tones or dissonance much like a ring modulator effect.
Hardware and Components include:
High Quality Purple Translucent Star Dust Powder Coat Finish. (Zero Ozone Emissions)
Futuristic Trapezoidal Design is Pedal Board and Gig Bag Friendly. (Perfect for late night jams or sitting in with a live band.)
Rear Facing American Made Input & Output Jacks as well as positive ground (non-standard) DC Jack. (Keeps cables out of the musician's path.)
Enclosure-mounted (with stop-lock-tab), PCB-mount Potentiometers soldered onto thick fiberglass circuit board with plated-through-holes for reliable performance on the road.
Low-Noise High-Precision 1% Metal Film Resistors
Greenie Mylar Capacitors
Beta Matched new BC549B, and NOS 1970s Motorola 2n3906 Transistors
360° viewing angle hi-bite RED Light Emitting Diode w/ red high-impact diffuse-ribbed ABS plastic protector.
"How does the Purple Stardust™ compare to the Vintage/Boutique Tychobrahe Octavia™ units?"
 The Tychobrahe Octavia™ circuit is a mess with an incorrectly wired Intensity pot, an incorrectly installed Q1 Transistor, and is mis-biased (spec'd for 24volts yet runs on 9volts.) If you are tired of the overly gain-y, noisy and treble-y TychoBrahe Octavia™ clones on the boutique market, we agree with you and it's the reason we've created the Purple Stardust™.
The Chase Tone™ Purple Stardust™ Hi-Octave-Fuzz Effect has negative feedback stages, accurately biased new production, low noise BC549B and NOS Vintage 1970s Motorola PNP transistors, an optimally wired Intensity Control as well as a custom spec taper, larger transformer, altered circuit values and matched output diodes for a superior sounding fine-tuned version with amazing touch sensitivity that satisfies and expands a musician's horizons.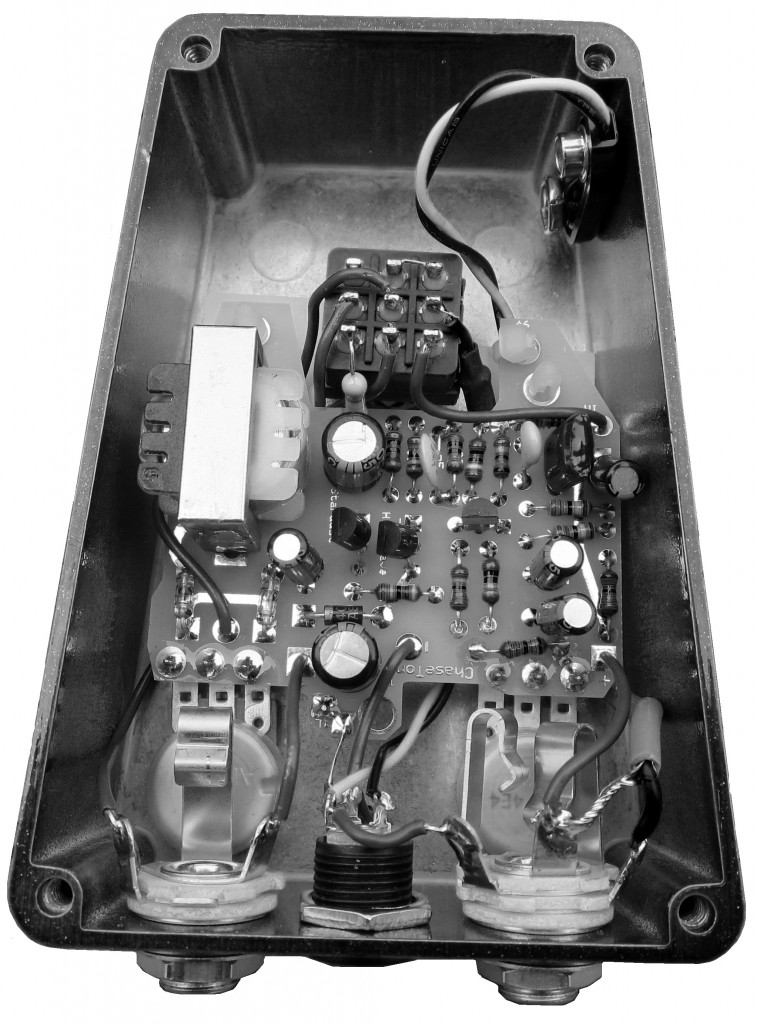 Reminiscent of the iconic 1960s

Hi-Octave-Fuzz Effect

heard on the studio: "Purple Haze (guitar solo)," "Fire," "One Rainy Wish," "Little Miss Lover," and the live Band of Gypsies era "Who Knows"!
-Order Details-
$189.99 purchase price.
Free Shipping:
United States Customers USPS Priority Mail in USA w/ Insurance & Deliver Confirmation.
International Customers USPS First Class Mail w/ Tracking. 1-3 weeks approx delivery from date of shipment. Customs may add additional wait times.
☆ 5% discount for United States Veterans ☆
30 Day Return Policy for USA Buyers
Note: The Purple Stardust™ Hi-Octave was a Limited Production Item.

Have a question? Please use the contact form below including your name and country and we'll get back to you shortly!
Contact Us for more details!