Roadster™ Fuzz is SOLD OUT and no longer available! 
Hot Rod

'White Pearl Dust'

&
Lamborghini

'Gold Metallic Print'!
---
 Kyle.. WOW!!! The Roadster Fuzz™ is out of this world! I have gone on a crazy fuzz pedal exploration.. playing [brand removed] Germanium NKT-275's and [brand removed] Silicon BC-108's and 109's.. [brand removed] octave fuzzes without the octave.. and everything in-between. All those pedals have their own "thing" but it's hard to pick just one to put on a board. The

Roadster Fuzz™

covers ALL that ground and then some. Also, the quality of the fuzz.. the pure tone of the note is superior to most. It's a high quality fuzz making machine! New riffs were blossoming under my fingertips in real time. Also, and this is where many 'jack of all trade' fuzzes lose.. when you back down the volume you get this wonderful glassy clean; the way old germanium fuzzes clean up. It's wonderful and so musical. You really hit a home-run with the

Roadster Fuzz™

. Not sure how you did it, but congrats. –

Nick
CHASE TONE™
Roadster Fuzz™
~ Sweet Germanium Warmth,  Singing Silicon Sustain, Hot Rodded Gain. ~
 

"

There's fuzz…THEN. THERE. IS. FUZZ! Like an exploding, melting wall of tube amplifiers (Hendrix); that sings and blooms with sweet harmonic intensity (Cream, Jeff Beck & Eric Johnson); roars with more gain and sustain than a stock vintage fuzz (Billy Gibbons); & sails through LIVE & ICONIC RECORDING mixes (David Gilmour). This… Fuzz… Sounds… HUGE!"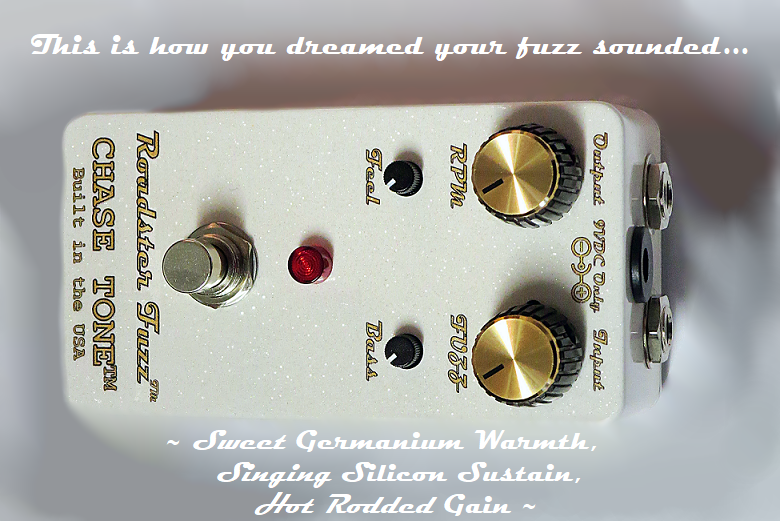 "Kyle Chase is possibly the world's most OCD builder of new-old-stock amps and effects. When it comes to hardcore authenticity in vintage gear replicas, no one tops Chase Tone™." – Premier Guitar Magazine
 I love all of the different tones of the Feel knob, and it certainly is the most germanium sounding fuzz I have ever heard. That cleanup when you back down the volume knob is spot on germanium. No other silicon fuzz I've played does that just right. Tons of volume without getting that shrill papery sound. Cuts right through and sounds absolutely HUGE! It really worked great with both a strat and my 335. Really great to have the germanium feel with the strat but not have it get too muddy with the 335.

I find it is quite similar to a germanium fuzz, but definitely fatter, which I never thought I would say about silicon vs. germanium! It sort of has that tube driver type of tone – super thick. Wasn't expecting that. Compared to my [brand removed] germanium it just has a more of a "friendly" tone, meaning it's easier to just make it sound good right away. It also has more output and more of a germanium feel, which I love. I didn't notice any background noise at all!

– Matt



Applications: The RF™ is BEST placed BEFORE buffered pedals.
The Roadster Fuzz™ has a unique RPM KNOB allowing you to be in complete control of a unity or boosted signal to a tube amplifier. Higher than NOON RPM Knob settings act like a Treble Booster.
A simple turn of the Feel Knob effortlessly transforms the feel and sound from 1960s Germanium-style Tonebender and Fuzz Face pedals (SMOOTH & CREAMY) to later Silicon Versions (OPEN & CLEAR) without the noise. [Counter-Clockwise to Clockwise Rotation.]
The Roadster Fuzz™ has enough gain to be used on a clean tube amp at low volume levels. Improved, LOW NOISE design allows for layering the fuzz on CRANKED distorting tube amplifiers.
Players LOVE the Bass Knob as it doubles as a 'use with a Wah and/or Humbuckers' knob when turned Counter-Clockwise.
 Hi Kyle, This is a FUN PEDAL!!! I finally had a chance to hook it up and play… I couldn't stop for 2 hours! Like you say, it pretty much can do it all – and remains so sweetly harmonic sounding through all of the settings I could dial in. Like you say, Clapton to Jimmy to Jimi… Got Billy G in that Home Out On The Range – ON MY STRAT, no less! I never even got to the Les Paul Custom hum buckers, and never even got to the Marshall amps. Pairs remarkably well with the Gypsy™ Wah too! I think you really killed it with this one! –

Charlie
Features Include:

Premium Quality
Professional Low-Noise PCB DESIGN: FULL PCB GROUND PLANE provides enhanced noise reduction and rejection.
Stable Performance On-the-Road- Temperature independent for consistent performance.
Standard 9VDC Polarity Power- Center Negative (Standard) or 9Volt Battery.

KYLE THESE ARE INCREDIBLE!! I can't believe how amazing the

Roadster Fuzz™

is. So much energy, it turns my guitar into a monster. The

SECRET PREAMP™

warms up my tone so much, I can't even put into words how it transforms so brilliantly. I've forever been searching for my tone, and you've given it to me. I can't thank you enough! Speak to you soon,

Kind Regards, Jackie
Low Noise- Hear all the nuance and dynamics of your playing and guitar knob settings when recording.
Hello Kyle, I just wanted to take a minute to say thank you for a great product, as well as excellent customer service. The RF™ is exactly as described on the website: huge, thick, warm, and hot-rodded.  Before I played it, I was wondering how good it would sound at low volume into a clean amp, but I was more than pleasantly wrong: it sounded fantastic!  And even better when the amp is loud and being pushed. The clean up is great too, despite all the gain available.  I also appreciated that while there are a varieties of textures, the sweep of the pots aren't hyper-sensitive, making it easy to dial in tones.  The bass control is very welcome, since humbuckers weren't overly woolly and dark.  Finally, it is so quiet, especially considering how much fuzz it can get. Anyway, I'm telling you a bunch of stuff you already know, ha-ha!

All the best and looking forward to the GSW™ and future releases, Phil
Single Coil & Humbucker Compatible- Makes single coils sound FAT and harmonic; Humbuckers SING with harmonic sustain.
 
Oh man, I can't settle on anything! Been swapping guitars, amps, settings…really just exploring sounds. It's fun. There are seriously A LOT of fuzz tones in this box.

– Evan



Controls Include:

Uniquely Fine-Tuned
RPM – Adjusts Treble EQ and Output as it's cranked. * We suggest finding the sweet spot between 9 O'clock and Noon depending upon the environment. Higher than "12 o'clock NOON" settings are great for cutting through a band mix, Dark Vintage Tweeds or with modern, preamplifier distorted or bass-heavy amplifiers. *
Bee's knees. Great cut. Great sustain. Rolled off are sparkly. Like a nice overdrive when u click it back. It's a really great pedal that shows characteristics of both Germanium and Silicon and what this does is provide more low-end and clarity in the mid range …really cool

– Nik
FUZZ – Adjusts Fuzz content. Improved design produces THICKER, FATTER and WARMER FUZZ tones at lower settings and reduces background noise. Improved design allows fast and easy adjustments without having to adjust any other knobs to compensate!
Kyle this pedal is excellent thank you… probably the best thing you have made. Really has that violin like sound, and can be the opposite of that as well. I am really blown away. Wow.

FEEL–  Adjusts Feel and Character of the Fuzz Tone. Counter-clockwise simulates a dying battery, "Spirit in the Sky" style fuzz tone and fuzzy Germanium Tonebenders. Noon produces THICK, FAT and WARM Germanium Fuzz Face and cranked 1960s JTM45 & JTM45/100 era Marshall 'Plexi' amplifier tones. Clockwise produces glassy, singing Silicon Fuzz Face tones with superior guitar volume cleanup.
CHASE TONE™ has figured out how to make silicon transistors SOUND & FEEL like IMPOSSIBLE-TO-FIND, cherry picked, vintage germanium transistors but with MORE GAIN, SUSTAIN, OUTPUT and LESS NOISE!
Temperature Stable. Standard Polarity Power.
Kyle, Played the

Roadster Fuzz™

over the weekend.  It sounds great.  I first tuned it to sound like a germanium fuzz (bass knob all the way clockwise, and feel knob at 1:00).  I was really surprised by how "germanium-like" the pedal sounded.  Really fat, warm fuzz tones at this setting.  If I didn't know there were silicon transistors in there, I would have thought it was a germanium fuzz for sure (and a fantastic one at that).  Of course, the bonus is that it really cleans up well, probably better than other germanium I've tried.  Honestly, I was having so much fun with it at this setting that I didn't try it at other settings.  I'm sure I'll get into that later this week. Great job with this pedal, Kyle!  And thanks again.  Much appreciated! Best regards, Dominic C.
UNIQUELY FINE-TUNE THE FEEL & RESPONSE WITH THE TURN OF ONE (Feel) KNOB! 1960s Germanium Tonebender; 1960s EJ BC183 Fuzz Face; Cranked JTM era Plexi; 1960s Germanium NKT275 Fuzz Face; 1970s BC108C/BC109C Silicon Fuzz Face; AND MORE!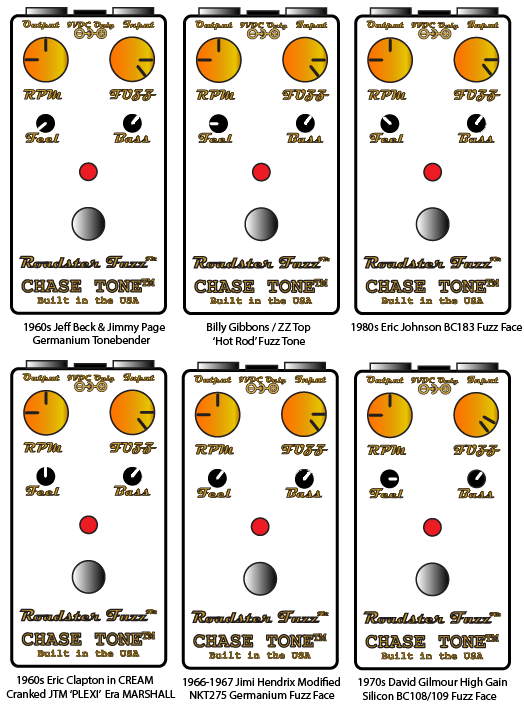 TONE TIP: Rotating the Feel Knob Clockwise Also Increases Output.
BASS – Adjusts Bass and Input Gain. Full Clockwise removes circuit. Counter-Clockwise rotation cuts Bass and Input Gain for Humbuckers and doubles as a "use with a Wah without squealing" in a [Guitar > Wah > RF > Amp] signal chain.
I think it's the best multi purpose fuzz that sounds genuinely great in all settings that I've played! I do love the clarity of the Roadster Fuzz™ and the clean up sound. – Hyram
 The

Roadster Fuzz™

is pretty damn cool.  It is an amazing build. I have been through a few fuzz pedals over the years but never really stuck with one.  It was very easy to get a great tone with both a Strat and a Firebird. Yes, it gets huge and fat quick! and I do like that feature. I can see myself using this pedal quite often as it has a completely different sound. As far as any negatives go, I have yet to find one. It is well thought out and so far, sounds great. I was particularly impressed with how it fattened the tone on the Firebird and really had harmonics jumping out with the amp pushed. Nice stuff. ( I was running through a Trinity 18 into a StoneAge C cab with a Celestion Redback and a Weber CV123. ) I will write more about it as I try it with different guitars and amp setups. So far, I can say it is an impressive unit. You certainly are making some really nice stuff. And, I will add that your prices are very fair in comparison to a lot of other builders out there. The

Roadster Fuzz™

definitely has it all in the fuzz dept. With a Strat, it is pretty easy to nail the Hendrix vibe, and I loved it with my Firebird. Very versatile fuzz, and it sounds great. You truly are building some of the finest pedals on the planet. I really appreciate the "vintage" vibe you have captured in your builds. Keep up the good work!!! Thanks for all you do!

Dave
Components Include:

Vintage-Spec, New Production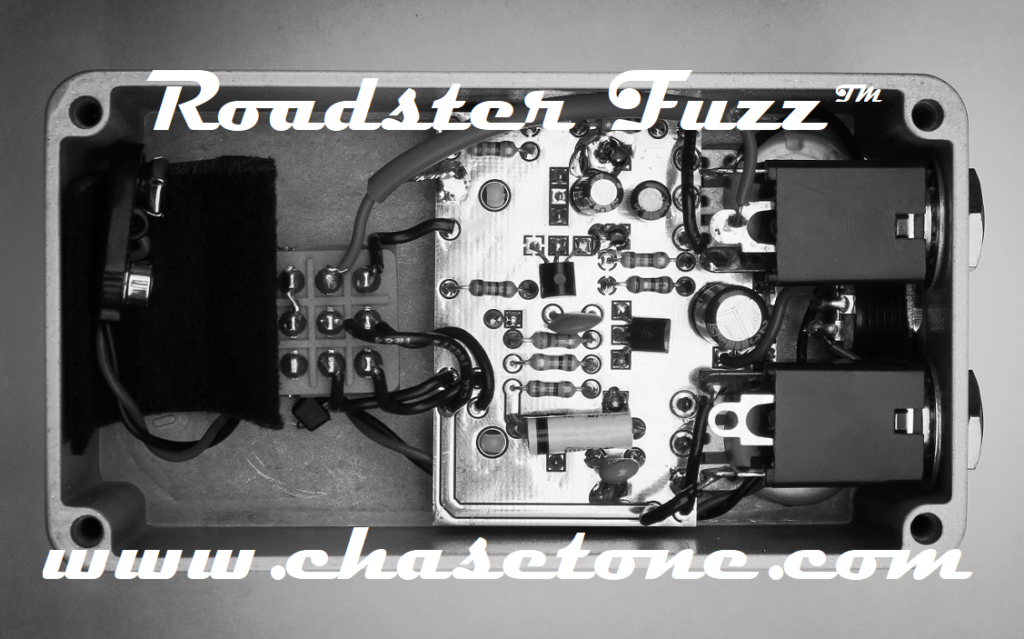 Cherry picked to cream-of-the-crop specs Germanium Sounding Silicon Transistors
Hey Kyle, Been super busy but been meaning to thank you for the

Roadster Fuzz™

. It's great, just as "advertised" and exactly what I had hoped it would be!! Nice work as always, until next time!

Best, Kip
Vintage-Spec, New Production Polyester Film and Foil Capacitor.
Hey Kyle. Very happy with the

Roadster Fuzz™

. Came in a couple days ago…plugged it in alongside my other two fuzz pedals (Fulltone)…was really amazed at the range of fuzz available in the Roadster…was dialing in some tones that I never had before…truly impressive. Thanks for making this pedal! Regards. Yvon

Vintage-Spec, New Production, Low Noise Carbon Film Resistors in 50+ year Aged 'fine-tuned' values.
 Rear Mount Jacks and smaller COOL Retro TALL MXR style box takes up half the space!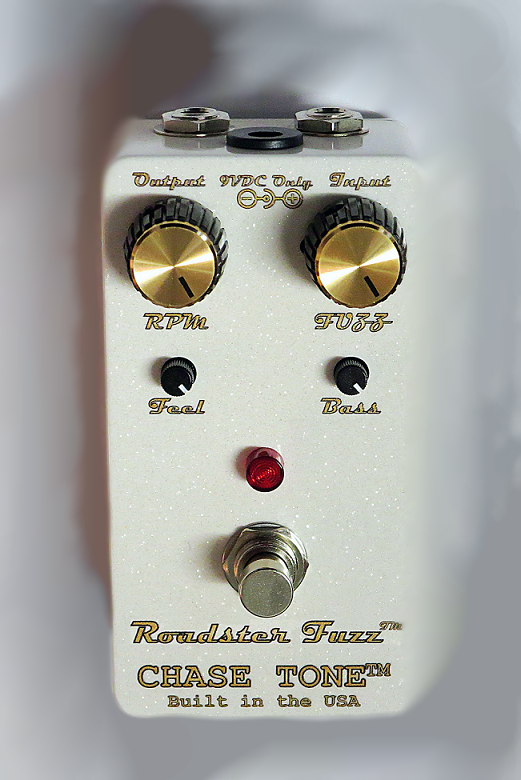 New Cool 70s Retro ROADSTER™ Box is Pedal Board Friendly.
Hardware Includes: Hand-wired Jacks and Switches for Ultra Reliability On-The-Road
Retro Cherry Red Impact Resistant LED BEZEL with Wide Viewing Angle.
HOT ROD 'White Pearl Dust™ Powder Coat Finish (Zero Ozone Emissions and Ultra-Durable) with Lamborghini GOLD METALLIC PRINT.
Oh, yes! Great fuzz with tons of gain on tap and very dynamic. I love how adjustable it is. I'm still honing in on the settings, but have pretty much settled on RPM at noon, FUZZ at 2-3 o'clock, Feel at noon-1. I'm very glad I took the plunge.

Thanks,

Lee
High quality 1970s style aluminum enclosure:4" Long x 2.4" Wide x 1.5" High. Fits in the palm of your hand.
Hello Kyle, the Roadster Fuzz™ is GREAT! It's been on my board since I got it. I love the tones coming out of this pedal, and the ability to shape the sound to your guitars with the Bass knob is cool…from a low-output Strat to a Les Paul! The cleanup is very good on all my guitars too. Lots of fun. I love your pedal, and it works well with the SECRET PREAMP™ too

Best regards, Jonathan
REAR MOUNT JACKS = FIT ON VIRTUALLY ANY PEDAL BOARD! High Quality Switchcraft Jacks Handwired for Ultimate On-The-Road
High Quality, EPOXY Reinforced 3PDT wired for TRUE BYPASS
Our Philosophy: "Inspired by Tone™

"We take a passionate approach in deciphering iconic, elusive tones– the same elusive tones that inspire you. We design our professional-grade products to inspire you on whatever musical quest you seek — house rocker, local clubs, studios, large theaters and world concert stages. So, step on your Chase Tone™ equipped pedals and live your musically creative life to the fullest. Professional-grade products, built out of passion, that truly inspire- now that's something worth playing."– Kyle Chase
Easy Order Details: PayPal Or Credit Card Secure Checkout Options



New Player Pricing! $199.98

USA: $10 USPS Priority Mail with Tracking. 3-5 Business Days for Delivery from Shipment Date. (Actual shipping costs.)
Canada/Europe/Asia/UK/Australia: $20 USPS First Class Mail with Tracking. 7-14 Business Days for Delivery from Shipment Date. Customs may add additional wait times. (Actual shipping costs.)
30 Day Satisfaction Guarantee for USA Buyers. Absolutely Guaranteed.
☆ 5% purchase price discount for United States Veterans with FREE USA SHIPPING! ☆ (Please Contact Us!)
Roadster™ Fuzz is SOLD OUT and no longer available!
Hot Rod

'White Pearl Dust'

&
Lamborghini

'Gold Metallic Print'!
Have a question? Please use the contact form below including your name and country and we'll get back to you shortly!
Chase Tone™ "Inspired By Tone™