SOLD OUT at the moment! Check back. (PLEASE SEE OUR TRU TALK™ WAH POT!)
The Chase Tone™ Tru-iCar™ Professional Grade Wah Potentiometer

"The most iconic vintage-vowel wah sweeps of 1967-69 brought into the future with a 2 million + life cycle and 'sweetened with age' tonal character! Guaranteed to outperform ANY icar wah pot available today or your money back."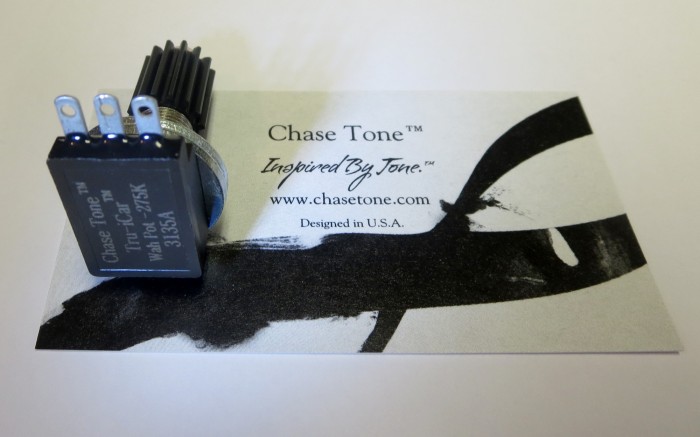 "Kyle Chase- possibly the world's most OCD builder of new-old-stock amps and effects. When it comes to hardcore authenticity in vintage gear replicas, no one tops Chase Tone™. " – Premier Guitar Magazine

What's it sound like?
This IS Voodoo Child (Slight Return), Burning of the Midnight Lamp, White Room, Tales of Brave Ulysses, Hush Now, Live 1960s Eric Clapton Wah Demo (YouTube) to name just a few.

How did we create the Tru iCar™?
"We took our passionate approach and analyzed original icar pots until we found our favorite, original aged 1960s ICAR measuring in the upper 200K range. Truly the cream-of-the-crop, with a pure, vintage-sweet top end and a fast, iconic sweep that turns heads, musically cuts through a stage and recording mix, and musically inspires.

What's the difference between the cheap modern-icars on the market and the Tru iCar™?
The Tru-iCar's™ advanced design offers 2 + million life cycles. No cleaning! No maintenance!
In contrast, the mass produced modern-boutique-clone icar wah pots have an inaccurate sweep producing a smooth linear response and are plagued by constant cleaning and maintenance shortly after installation. Guitarists deserve something better after nearly 50 years of scratchy, noisy carbon wah pots.
Our Philosophy: "Inspired by Tone™"

"We take a passionate approach in deciphering iconic, elusive tones– the same elusive tones that inspire you.  We design our professional-grade products to inspire you on whatever musical quest you seek — house rocker, local blues clubs, studios, large theatres or world concert stages. So step on your Chase Tone™ equipped pedals and live your musical life to the fullest. We invite you to learn more about our products at chasetone.com and to let others know of our professional-grade products built out of passion that truly inspire."– Kyle Chase
Order Details:
$19.99 purchase price. (Premium quality without the price)
$2.97 USA Shipping (3-5 Business Days)
$4.97 International Shipping (7-14 Business Days; Customs May Add Unexpected Delays)
Policy
1 Full-Year

U

.

S

.

A

. Replacement Warranty (Simply mail back the original for a replacement.)
60 Day 

U

.

S

.

A

Satisfaction Guaranteed. If you're not fully satisfied, we'll refund your full purchase price including shipping cost.
Chase Tone™ Customer Support
 ∞ 60 Day Return Policy for USA Buyers ∞
We stand behind each and every product we sell for the long haul. Even the slightest issue any customer feels they've experienced is a huge deal for us to make right. We have a near 100% satisfied customer base. We strive to exceed customer expectations. Should there be any issues with your order, please contact us and give us a chance to make it right, prior to leaving any negative
feedback or online reviews. We promise we will make sure you have a positive experience.
Customer Feedback On A Previous Version of this Item:
"The Tru-iCar™ is the first truly "wah-wah" sounding vocality I've heard in a wah. It's lovely sounding; genuine wah vowel-y-ness." – Evan
 "The wah [pot] rocks!!! You are the man. I thank you so much. I really like the sweep attack. It really is a sweet pot! I'm so happy with it." – Nik
"Got 'em today. Awesome pots! You sir,  Nailed It!!! Tried < name removed 1>, <name removed 2>, <name removed 3>, <name removed 4>, <name removed 5>, <name removed 6>, <name removed 7>, <name removed 8>, and just about anything I could get my hands on. I think yours is the closest that I've come to the "hendrix" sound in a wah. It's at about 98% since using your pot." – Paul
"Exceeded my highest expectations! It sounds very, very vintage and as if already played in. When toe down, there is not the slightestunpleasantness. I am beginning to understand why the old ICARs are held in such high esteem. It is easy to get the chopping effect Hendrix puts on the long, bending note after the intro of Voodoo Chile, the chopping effect he also uses to great musical impact. This effect I find so expressive; it might be my favorite wah effect in fact! I am really fired up now, – this is in fact amazing! I clearly prefer the Tru-iCar pot over the < manufacturer name removed > in the Vintage Italian Crybaby because of the Tru-iCar's aged and sweet tone which works marvelously with the Red Fasel. Thanks again, Kyle! At least 10 out of 10 points ;-)"
PS: "The pot seems to be mechanically and electrically noiseless which a big, big improvement in itself is. And then the added benefitof its prolonged [2 million +] lifespan… I have to thank you again and again for making this product available, Kyle! I am a bit perplexed over the fact that no one before you has made real replicas of the old ICARs. I have over the years tried at least a dozen different makes that all state they are genuine ICAR replicas but obviously without coming close, – they all lacked the proper cutting effect, and they all were too weak.  -Espen
"You've got a winner with the TruIcar! it really transformed my wah from good to superb! The sweep is smooth and the Toe down position is voiced perfectly. No ear piercing at all, and just enough highs to cut through the mix. Job well done Kyle! And let's not forget, ZERO noise from the pot. I gotta get back to playing my "new wah." –Peace, Marcus
"Sounds awesome!! Best pot I've heard!! Highly recommended!!" – Brad
"Tru iCar™ arrived yesterday thanks Kyle. Revived my 69/70 [Jen] Pescara! Thanks for a great product and can't wait for the [Chase Tone™] Scripture™." – Jared
Please use the contact form below for any questions! Thanks!
Contact Us for more details!